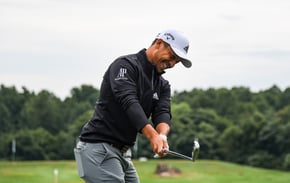 Image Source: Callaway Golf
It was only a matter of time before Xander Schauffele (Callaway Chrome Soft X LS) broke through on the big stage. The question now is whether his win in the Olympics will enhance his profile or what he does on the PGA circuit will mean more.
The 27-year-old from California is one of those young players on the PGA Tour who seems destined to win a major. He's been close – and I know this because for the longest time I was on his bandwagon. For whatever reason – and his name was principal among them – he appealed to me. I joked that he should have his own theme song, a variation of Metallica's Enter Sandman, accept his would be Enter Xandman. He comes across on TV as a real genial person.
But seeing Schauffele come up short in so many tournaments, I jumped off the bandwagon. I became one of those people who fairly or unfairly looked at him as being a player who couldn't close in the big tournaments. And if you had projected which of the four Americans – Collin Morikawa (TaylorMade TP5), Justin Thomas (Titleist Pro V1x) and Patrick Reed (Titleist Pro V1) being the others – would have fared the best in the field of 60, I doubt Schauffele would have been the top selection. The U.S. had more golfers than any other country because it had four players in the top-15 of the Official World Golf Ranking right now.
What's interesting is the story of how an equipment change, specifically a ball, enhanced Schauffele's chances. According to a story of GOLF.com, Schauffele switched from Callaway Chrome Soft X to the Chrome Soft X LS (the LS standing for low spin). According to its marketing language, Callaway says the Chrome Soft X LS is designed for max distance in a fine-tuned lower spin profile, especially suited for better players who want to bomb it off the tee with a tremendous combination of long distance and straight ball flight. The GOLF.com story noted that the switch helped Schauffele reduce his spin rate by almost 200 RPMs. Now for the average golfer, the switch may not matter, but for high-performance professionals every single nuance matters.
In the annals of American moments in the Olympics, Schauffele's win may resonate more than a major on the PGA Tour. The Olympics are literally all about golden moments, something that matters more for pride of country than individual pride. For the rest of his life, Schauffele will be known as the first American to win a gold medal in golf in the Olympics. Chances are the same people who might have been seeing Schauffele receive his gold medal knew nothing about what he's done as a golfer. But Callaway can market this medal to highlight his historic win. Golfers are not allowed to wear any individual sponsors on their clothing, which means a win on the PGA Tour is more marketable for players in terms of bonuses than in the Olympics.
THE OTHER RORY: While Rory McIlroy (Taylor Made TP5x) created a bit of humor in the Olympics playing without a cap because the ones supplied did not fit – in PGA tournaments he wears custom-made caps – it was Rory Sabbatini (Titleist Pro V1) who created a story of his own. The South African-born player who lives in Florida and has U.S. citizenship and also has a United Kingdom passport represented Slovakia. He married a Slovakian whose cousin is now the President of the Slovakia Golf Association. Sabbatini had a better chance of playing for Slovakia in the Olympics than he would have had he represented either the U.S., South Africa or the UK. So for a country that is relatively small in terms of population and geography, Sabbatini made good on his opportunity, including a course-record 10-under part in the final round to finish second by one stroke. Suffice to say, in Slovakia Sabbatini's win will mean more than Schauffele's in America.