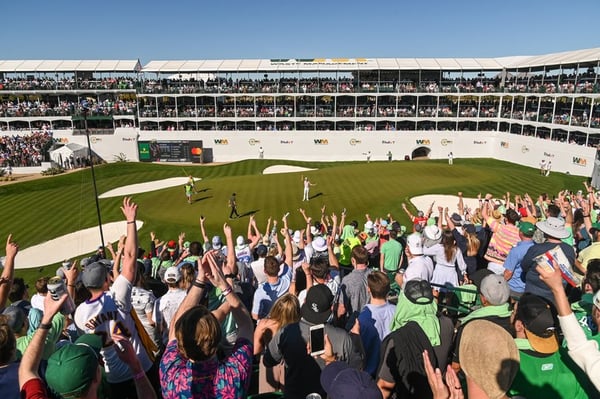 Image Source: Getty Images
The Road to the Masters is underway.

Last week's Waste Management Phoenix Open, included raucous fans high-fived by players, sometimes is seen as more of a party than an actual serious tournament. But if golf has been accused of being stale and staid, there's nothing like the Phoenix Open to prove that the sport has the ability to loosen up and have fun. What happens in Phoenix stays in Phoenix, so to speak, because the animation is not designed to be replicated in any other tournament. And if it happened on a regular basis, the Phoenix Open would be just another stop on the calendar of tournaments without being anything special.
What I find interesting about this time of the year is that in many parts of the world, golf is the furthest thing from people's minds because of the climate in the northern hemisphere. Golfing facilities are nowhere close to being open because of the cold and damp wintery weather, so watching a tournament on TV from the sunny and warm climates in the United States make you either want to go on vacation or hope that the days pass quickly until it's time to take out the clubs regularly.
THOUGHTS ON JON RAHM: It was interesting seeing Rahm (TaylorMade TP5) start the year rated third in the official world golf rankings. There is every reason to be believe that Rahm, who finished second by one stroke to Leishman last week, could be on the cusp of his biggest season. He possesses all of the skills and is one of the young lions on the tour. It has long been suggested if Rahm can control his emotions, he has a chance to take his game to the next level. Rahm is an entertaining, engaging personality who is fun to watch. Rahm finished tied for ninth in last year's Masters after placing fourth the year before.
THE PASSING OF KOBE BRYANT: It is always sad when an individual dies too young, and it is magnified when that person has a world-wide profile such as Bryant, who was only 41 when he lost his life in a helicopter crash last week.
He had accomplished so much in his sport, winning five NBA Championships with the Los Angeles Lakers and establishing himself as one of the game's all-time greats.
It was interesting to hear Tiger Woods (Bridgestone Tour BXS) talk of Bryant. In many ways, their careers are similar, both in terms of how they transformed their sports with a sheer desire to win, including a dagger mentality when the game was on the line, and a work ethic to improve each and every day. They were close, and he took it hard, just as everyone else did, when informed of Bryant's passing. His caddy, Joe LaCava, deliberately did not tell him of the shocking news that stunned the sporting while Woods was playing in the final round of the Farmers Invitational. That shows you the close relationship Woods and LaCava had and why it is working. Clearly a caddy can be an influence on a golfer in far more ways than just talking about distance and shot selection.
Bryant's passing reminded me of Payne Stewart, one of the most charismatic and colorful of his era, who died in 1999 at age 42 as a result of a plane crash in which he was a passenger. Stewart had won the U.S. Open four months before and helped the U.S. team to win the Ryder Cup. Payne was always easy to spot in competitions, with his ivy caps and his plus four pants. His passing shook the sports world then just as Bryant's does now.