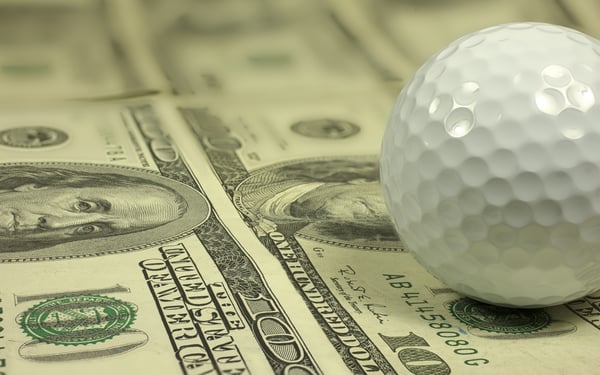 Bridgestone and TaylorMade have paid a huge amount of money to have two of the biggest stars in the world of golf – Tiger Woods and Rory McIlroy – play their balls and it is starting to pay off significantly.
In December, 2016, Tiger Woods entered into a contract agreement with Bridgestone to play the Tour 330-S ball. While details of the long-term deal were not announced, these types of contracts are usually about 10 years in length and worth at least $100 million.
That was the deal that TaylorMade entered into with Rory McIlroy in May, 2017. McIlroy plays with a TP5X ball.
Both Woods and McIlroy previously played with Nike balls, the deals coming to an end when the company decided to divest itself of its interest in golf equipment and concentrate on its core shoe and clothing apparel.
Remember all those Tiger and Rory commercials?
Fast forward to this year and Woods is easily the story of the 2017-18 PGA season with his remarkable turnaround. He is showing an ability to play with the top, young players on the tournament on a consistent basic. It can safely be said Woods will never dominate the game the way he did in his 20s, but the fact that he can play at this level is remarkable given all his injuries, including four back surgeries.
Count me among the many who are surprised.
He tied for second in the Valspar Championship and was headed for possibly a similar finish in the Arnold Palmer Invitational before an errant tee shot on the 16th hole led to his undoing. Still, he finished tied for fifth, his second top-five finish in two weeks.
In November, 2017, in an article in Yahoo Finance, Bridgestone Golf CEO Angel Ilagan said the company has already benefitted from Woods.
"The payoff has already occurred for us," Ilagan told Yahoo Finance. "His endorsement value is what's really important for us. He picked our ball as the best ball out there. This is just added gravy for us if he plays."
Woods had gone through some trying times since the endorsement deal because of his health and issues not related to playing, but the fact that he is back playing and has essentially put these problems behind him is going to significantly make Bridgestone even more happy. There is no better way for Woods to market a sponsor than to play – and play well.
All you have to do is watch the galleries who crowd around him to watch him play and root wildly after he drives, chips or putts to understand his status as a generational athlete, not just in golf but in all of sports. And with the television networks focusing on Woods with every shot, it is his sponsors who are probably rooting the loudest. If he wins a tournament, every item in his bag will be profiled.
McIlroy's victory in the Arnold Palmer Invitational, in which he displayed some remarkable driving and even better putting underlined that he is still one of the best players in the world. While it had been 18 months since his last PGA Tour win – and he had gone through some trying times last year because of injuries – you just knew that based on talent alone he was going to end the streak.
When he is able to launch a ball 373 yards off the tee as he did on the 16th hole in the final round of his victory, that is pure gold for TaylorMade. The fact that he is playing with TaylorMade clubs and a TaylorMade ball are even better for the overall marketing of the company.
The overwhelming majority of players on the PGA Tour use Titleist balls, which the company promotes heavily in its TV commercials. But any chance a rival company has to pump up its balls played by the premier golfers in the world is capitalized on with excitement. And the trickle-down effect goes toward the amateur/recreational players. This is the game within the game.
With momentum moving rapidly towards the Masters, expect this type of promotion to be intensified.
This has already been a fascinating season, and not just because of Woods' comeback and McIlroy's win. Phil Mickelson turned back the clock winning the 2018 WGC-Mexico Championship, which overcame a lengthy drought for the man known as Lefty. He plays with a Callaway Chrome Soft X. It was his first victory in almost five years.
Mickelson beat Justin Thomas, the world's number one ranked golfer, who plays with a Titleist Pro V1x. Some of the other Titleist PGA "brand ambassadors" include Jordan Spieth, Rickie Fowler, Tommy Fleetwood, Paul Casey and Henrik Stenson.
Back in January, 2017 Masters winner Sergio Garcia entered into an agreement with Callaway to use it clubs and ball. Garcia clearly cashed in on his first Major win. He was the talk of the Valspar Championship, finishing with a four-under par in the final round. He was actually at five-under at one point.
Titleist has been in the business of producing golf balls for more than 80 years. There is something to be said about longevity, performance and results. They can boast about their dominance in the golf ball reason for a reason.
That said, there is no one ball that works for everybody, no matter what the level. It's all about trust.
Find a ball that works best for you, but don't be afraid to experiment.