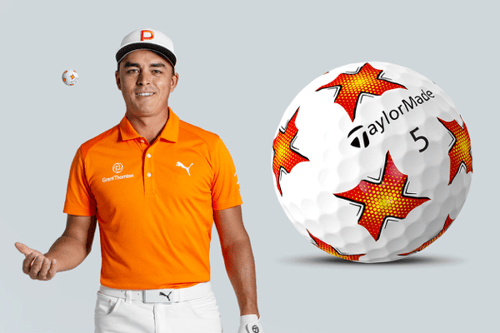 If you spend most of your weekends glued to the TV set watching golf – and I confess I among them, partly because it gives me ideas for this blog but also because I'm in a pool – it could become a bit monotonous. So, golf purists, forgive me for saying this, but I find the commercials an enjoyable break from watching the best players in the world driving a ball as long as 400 yards or doing something even more dramatic such as a hole-in-one or holing out from the bunker. Everyone has their favorite, although I'm sure a hole tops the list.
There have been some commercials lately that are drawing my attention, mainly the ones with Rickie Fowler (TaylorMade TP5x Pix and TP5 Pix). As I've noted before, my mother-in-law, Louise Lloyd, who enjoys sitting in her favorite chair watching the televised PGA Tour events, is a huge fan of Rickie. She never calls him Rickie Fowler. It's strictly Rickie. I'm not exactly sure what her particular fascination is with him. Maybe it goes back several years ago when he wore his hair long, or the fact he proudly sports the orange colors of his alma mater, Oklahoma State University, or maybe it's that flat-billed cap. I've never asked her specifically. I just let her enjoy the woman crush she has on him.
TaylorMade has been creating some clever commercials with Rickie, who helped the manufacturer design pixilated balls. He debuted them last year at the Waste Management Phoenix Open, which was appropriate because that is the most engaging PGA tournament of all. It won't have quite the feel this year because of COVID19, but some fans will be allowed to watch the tournament and you know they will make some noise and Rickie will be among the players prompting them to unleash their primal excitement.
The pixilated balls are easy to track because they have 12 triangular shaped markings and reflect Rickie's swagger and delivers performance he demands. At least those are the words that were used to market the balls. Moreover, the ClearPath Alignment, which is trademarked, provide immediate feedback once the ball is rolling. Again, that is more marketing speak.
"The Pix graphics give you a precise focal point to work with," Fowler said in a statement upon the balls' release. "When we started developing the new design, one of my first comments was if we didn't have the full TaylorMade logo in two places we would have space to create a path that works for alignment and feedback."
I laugh watching the commercials TaylorMade has literally rolled out with Rickie hitting a ball and it somehow meanders through every possible obstacle on route to the cup. It's crazy and fun.
Rickie has done some rather interesting, provocative and, mainly, funny commercials over the years. I guess some players just have the personality to do it. Phil Mickelson (Callaway Chrome Soft X) is another one who seems to have the personality and capability to do commercials that go beyond just driving a ball. Not that there is anything wrong with the ones with Bubba Watson (Titleist Pro V1x) and Bryson DeChambeau (Bridgestone Tour B X) blasting balls. They are just a tad too technical.
When people debate who is the best golfer on the PGA Tour now not to win a major, Rickie's name is usually mentioned most. It used to be Sergio Garcia (Titleist Pro V1) before he dramatically won the 2017 Masters. Rickie has been a runner up in the Masters. U.S. Open and The Open Championship and third in the PGA Championship. In 2014, he was tied for second in the U.S. Open and The Open Championship and tied for third in the PGA Championship. You just know when Rickie wins a major, his legion of supporters – and I include my mother-in-law – will go berserk.
In the meantime, she and I will enjoy those TaylorMade commercials.