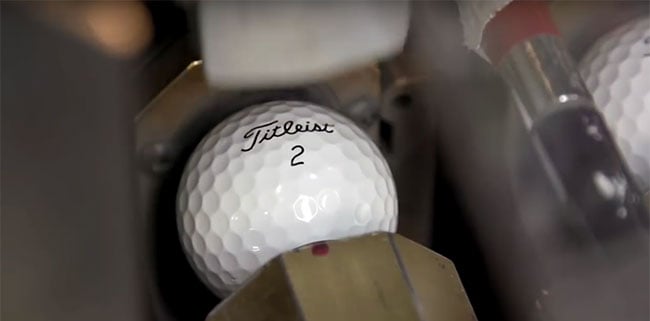 One of the most common questions we get here at LostGolfBalls.com is about the difference between a recycled golf ball and one that's been refinished. This week we seek to answer that question by examining the process both types of balls go through before they travel from our warehouse to your golf bag.
Recycled:
These are the golf balls that you are probably the most familiar with. When these balls arrive, they travel through our proprietary and environmentally friendly cleaning process. This leaves them sparkling clean without any damage to their original condition. Once washed, the balls are then sorted by quality.
The AAAAA/1st Quality balls will look and feel the most like a brand new golf ball with little or no signs of wear. However, player pen markings and various logos can still be present.
AAAA/2nd Quality quality balls are comparable to a ball that has been played for a few holes. While the exterior may experience some slight cosmetic blemishes such as discoloration and loss of luster, the integrity and performance of the ball will remain unaffected.
AAA/3rd Quality quality golf balls may see more significant exterior blemishes such as scuffs, minor discoloration and smudged print. Higher-grade practice models may be come included in any given set.
Aside from the cleaning process, LostGolfBalls.com does nothing to physically alter the ball itself. This helps to ensure that our recycled golf balls are as close to new as possible and that the only difference between our golf balls and brand new ones is the price.
There is a little more work involved when it comes to a refinished golf ball. After undergoing the same cleaning process as the recycled variety, some of the balls with more significant cosmetic staining are taken to be refinished. It is important to note that only golf balls that are 100% intact, which is those with no cover abrasions or cuts, are refinished. This ensures that the performance of the ball remains uncompromised.
The refinishing process is purely cosmetic. The first step is mechanically stripping the balls of their outer clearcoat and paint. This does not mean the outer layer of the ball itself is removed, simply just the finish that makes golf balls so white and shiny. After this step, the golf balls are then repainted to include all original manufacturer marks as well as a refinished logo and a new clearcoat is applied. This leaves the balls looking and performing like new.
Whether you choose recycled or refinished, LostGolfBalls.com is the best way for you to save money without sacrificing performance. Let us know whether you prefer recycled or refinished in the comment section below and as always head over to LostGolfBalls.com for all of your golf ball related needs.
Remember, use code TEETIME to save 10% on your order to celebrate LostGolfBalls and Knetgolf getting hitched!