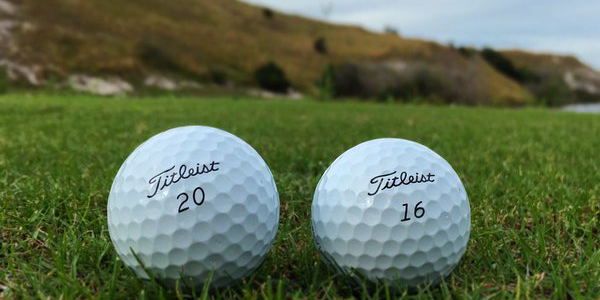 Image Source:
https://twitter.com/selina0403
We put the top-selling,
pro-favorite balls
to the test and are happy to report that both 2016 models uphold the exceptionally high-quality standard that the Titleist brand has become synonymous with over its 83-year reign.
Equally impressive in terms of overall superiority, the 2016 Pro V1 and V1x golf balls vary significantly in terms of design, technology and core attributes—just as each 2016 model boasts considerable distinguishing features when compared to their respective 2013 and 2011 predecessors.
At a Glance: The 2016 Pro V1 and Pro V1x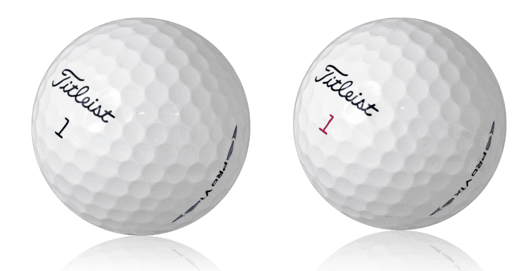 Both the
Pro V1
and
Pro V1x
2016
models feature an innovative, patented thermoset urethane elastomer cover—designed for long-lasting durability and improved short game performance—as well as an ionomeric casing layer. The control, sound and feel of the Pro V1 and Pro V1x 2016 golf balls give players a noticeable sense of confidence on each approach—while maintaining excellent distance with a softer cover.
In a side-by-side comparison, the
Pro V1 2016
has a generally softer feel than the V1x model and also penetrates a lower launch for more roll and long game spin. The Pro V1 ball is comprised of a unique three-piece, multi-component technology with a very soft compression ZG process core and a spherically tiled 352 tetrahedral dimple design.
The
Pro V1x 2016
has a firmer feel and effectively penetrates a higher launch and more long game spin than the V1 model. The Pro V1x ball is comprised of a distinctive four-piece, multi-component technology with a ZG process dual core and a spherically tiled 328 tetrahedral dimple design.
In terms of appearance: both the Pro V1 and Pro V1x 2016 models are distinguished by a gray-colored arrow marking with a split down the middle. The actual design of the 2016 model is the same as the 2015. The reason behind this is Titleist comes out with a new model every two years. So be expecting to see great things from Titleist in 2017!
Should I Play with a ProV1 or ProV1X?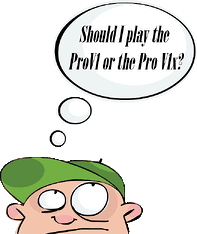 The million dollar question, I'm glad you asked! Titleist engineered the ProV1X to combat excessive spin and higher swing speeds. The Pro V1X has fewer dimples, which means it's engineered for someone with a swing speed above 105 mph who imparts more spin and has a higher ball trajectory because of his or her swing path and the energy released during impact. If you do not have that type of swing speed, the V1X can hinder your game, because it will not produce the correct trampoline effect upon the moment of impact between the club face and ball.

Every swing is different and, as we all know as golfers, no single solution cures everything. A golf ball that is engineered for tour-caliber swings may not be the correct ball for your game.

"I'm Still Not Sure What Golf Ball to Use, Help Me!"
This is where your team at LostGolfBalls.com can help.
With our combined industry knowledge and unbiased stance on golf balls, we can help guide you to the ball that fits your game.
Of course, you'll never actually know what ball is best for your game until you tee up a couple different models and drop a couple down in the fairway.