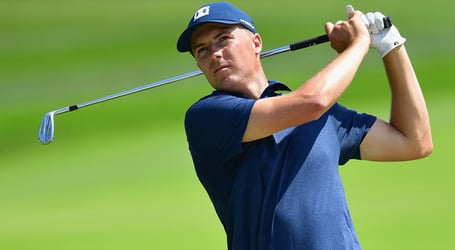 Please forgive me Jordan Spieth (Titleist Pro V1x) for predicting you will win the PGA Championship. I don't want to put a hex on you.
I say that because heading into the Masters, I was oozing with confidence Bryson DeChambeau (Bridgestone Tour B X) would win.
Boy, was I wrong. Big Bryson wasn't even close. He tied for 46th overall. I bought into all the Bryson hype and, similar to him, I was humbled. I have jumped on and off the Bryson bandwagon so many times it's become the equivalent of a Stairmaster and I'm exhausted.
But back to Spieth. He finished tied for third in the Masters, a week after winning his first PGA Tour tournament in more than three years.
Last week, he finished tied for ninth in the Byron Nelson Classic, his first competition since contracting COVID-19 10 days after the Masters. He revealed that heading into the tournament, explaining he lost some energy and had some sinus issues. So the way I look at it is, the Byron Nelson was a prep for this week's tournament.
His play has become consistent in recent months, suggesting he is nearing the unbelievable form when he ruled the golf world for 26 weeks starting on August 16, 2015. He was simply amazing in 2015, winning the Masters, the U.S. Open and placing second in the PGA Championship.
The PGA Championship is the only major left for him to win to complete his own personal Grand Slam. It's one of those things that places a golfer in rare air in the sport.
I've said it before and I'll re-emphasize it that Spieth is only 27. There are many in his age group that are now emerging as the top, young stars on the PGA Tour. Spieth has already been through that period and what we're saying now is his 2.0 version. There were few that burst on to the scene like he did and, pun intended, mastered it. He just seemed to have it all, particularly his short-iron game and his putting. He also did amazingly well in scrambling, none more so than on the 13th hole in 2017 in The Open. His game slowly came apart, but he never gave up on himself and worked to regain the very things that made him a generational player.
Now I know the betting sites are making Rory McIlroy (TaylorMade TP5x) the pick to win the tournament. He's playing on the same course he won the 2012 PGA Championship by a whopping eight strokes and with a final round of six-under par. If there is such a thing as horses for courses, this might be it.
One player I am also giving a serious look is Patrick Reed (Titleist Pro V1), whom I have been following closely for weeks. He finished second in this tournament in 2017 to Justin Thomas (Titleist Pro V1x). Reed has had a decent season, playing in 13 tournaments and winning once and placing in the top-10 five times. He's ranked eighth in the official world golf rankings.
And of all the young guns going into this tournament, I think Daniel Berger (Titleist Pro V1) will do the best. He won the Pebble Beach tournament earlier this season, and following some time off because of a rib issue he comes into this following a tie for third in the Byron Nelson, including shooting seven-under par in the final round.
I also think Will Zalatoris (Titleist Pro V1) should do well. He's on the cusp of doing something big. He's made the cut in 16 of 18 tournaments, including placing second in the Masters and tied for sixth in the U.S. Open. He had a nice tuneup last week in the Byron Nelson tied for 17th.