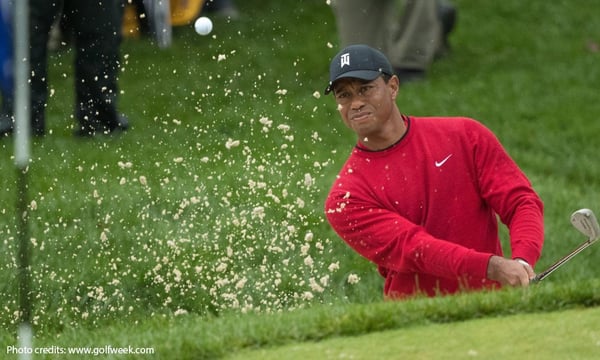 I'm hooked on the FedEx Cup!
I had never been quite attracted to a tournament that came after all the majors, even if it had a $10 million prize, but this year is different.
The reason: The Tiger Woods (Bridgestone Tour B XS) effect, the emergence of some new, young stars and some 30-somethings who are still relevant.
I've written extensively that Woods has had an amazing comeback season – one of the most compelling in the history of sports – which will be complete if he wins a tournament.
In fact, as I was writing this, there is an article on the PGATour.com website with a story titled: The Most Fitting End To A Season? A Tiger victory. Clearly a lot of people are of the same mindset.
I will also acknowledge that I was dead wrong about him at the start of the season, back when I wrote, "Does anybody care about a Tiger Woods' comeback?". The spike in TV ratings and the large galleries that watch him play are indicators of his magnitude. Of course, the fact that he is playing well is the reason. If he had come back and played poorly, it would have been hugely disappointing. No one likes to see an athlete who was great at one time falter because of age, injuries, loss of confidence or a combination of all three.
Tiger bridges an audience that watched him in his prime 20 years ago and a newer crowd that has become enamored with the likes of Jordan Spieth (Titleist Pro V1x), Justin Thomas (Titleist Pro V1x), Dustin Johnson (TaylorMade TP5x), Brooks Koepka (Titleist Pro V1x), Bryson DeChambeau (Bridgestone Tour B X), Tony Finau (Titleist Pro V1), Patrick Reed (Titleist Pro V1) and Tommy Fleetwood (Titleist Pro V1x) and Jon Rahm (TaylorMade TP5x).
And then there's Justin Rose, the 38-year-old Englishman who has risen to the top in the official world golf rankings. He has been on a tear in recent weeks, winning once and finishing in second three times. Overall, he has two wins, three seconds and one third on the season, along with 10 top-10 finishes and making 16 of 17 cuts. While Koepka is the favorite to be named Golfer of the Year by virtue of winning two of the four majors this season, Rose could at least make a statement by winning the FedEx Cup in next week's Tour Championship in Atlanta. There is a lot at stake for many players – money, prestige and bragging rights.
And what of Rory McIlroy (TaylorMade TP5x), Bubba Watson (Titleist Pro V1x) and Ricky Fowler (Titleist Pro V1)? If the golfing gods have a heart, Fowler will win the FedEx Cup. He deserves a break.
With the top-30 entrants in the FedEx Cup qualifying based on points accumulated during the season – Spieth finished 31st – this is as good a lineup as there has been in recent years. And what of Phil Mickelson (Callaway Chrome Soft X), who has had one of the craziest seasons of any golfer in recent weeks? Him and Tiger have that head-to-head tournament, dubbed The Match, in November in Las Vegas. It's a pay-per-view and not everyone is interested in it, but it is definitely something different and with the right two people (although it would have been better if they didn't like one another instead of now being buddies). If this is a one-off – and often in these competitions the end result fails to live up to the billing – at least it is something unique. Again, this is the Tiger effect and it comes at a time when Mickelson has put himself back into the spotlight, albeit not always for the right reasons. Hey, controversy sells, along with clever marketing!
The FedEx Cup is also a nice tie-in to the Ryder Cup, which Woods has been added to as a player instead of what would have been a vice-captain.
The next few weeks could be really interesting for professional men's golf.
Next week I'll provide my fearless and peerless predictions for the FedEx Cup.