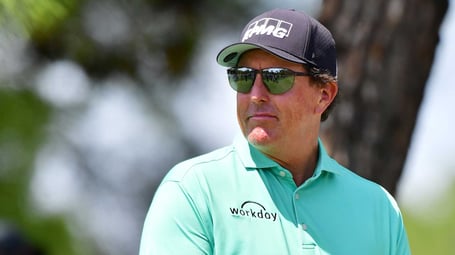 Full confession, I am a member of the Phil Mickelson (Callaway Chrome Soft X) Facebook Fan Club.
I joined last week, immediately becoming a "Phan" and find it fascinating to look at the content and the commentary.
The group has 7,900 members and it is open to the public. There is also a private group that also has more than 29,000 members. I have no idea why one is private and one is public.
Anyhow, I have always been a fan of Phil. I've liked his style, since he played in the beginning with no fear, attacking the courses unlike anyone else and often paying the price. I'm not sure whether it was the pressure of having to play against Tiger Woods (Bridgestone Tour B XS) in his prime that made Phil do what he did or whether it was simply brazen immaturity, but when he started to change his game and shape shots instead of playing for power and distance his game improved significantly.
Similar to anyone who follows golf, I remember his 2010 Masters win, which happened 11 months after his wife, Amy, was diagnosed with breast cancer as, arguably, the defining moment of his career.
Phil is no longer the impact player he once was on the PGA Tour, though he still proves most weeks that he can still make shots that just make you go "wow." He managed a few last week at the Valspar, although he failed to make the cut.
Previous to that, he played in the Masters and finished tied for 21st at even par.
The previous week he failed to make the cut at the Valero Texas Open.
Overall this season, he has played in 13 tournaments, made the cut in 7 and has had two top-25 finishes.
One Phan suggested Phil should concentrate on the Champions Tour, where he has had success since turning 50 last year, and remove himself from the PGA Tour.
"There are several reasons why I believe this to be true," the individual opined. "The greatest reason however is the number of three-putts over the last six months. The first time he three-putted I was shocked. Now he three-putts about an average of at least once in 18 holes. Recently he three-putted from 17 feet with the last two from 5 feet and then 3 feet. No shame in growing older. The only shame is to miss the opportunities you have as you do. Time to excel at the next step in life."
I could suggest in his defense that is it nit-picking to focus on the three-putts. There are players much younger who have been guilty of the same thing and have underachieved this season.
Mickelson indicated in a Golf.com interview last week he is having a hard time focusing as he has gotten older.
"That's my challenge right now, and I'm trying to come up with — I'm trying all different things to be able to elongate my ability to stay focused or to refocus," he said. "But when I get called off shots, like cellphones ringing or people yelling or something, my physical ability to refocus, to back away and then refocus and so forth, I'm not able — I'm physically not able to do it right now."
But he dismissed the idea he should play more on the Champions Tour.
Mickelson has also been in the news because of the Super Golf League and its intent to woo the top players in the game. The PGA has essentially said any players who join the Super Golf League will be banned. So for someone such as Mickelson who is in the back nine of his career, does he turn down making a reported $100 millions per year playing for the Super Golf League and turning his back on the PGA Tour? That is his decision.
"I think the fans would love it because they would see the best players play exponentially more times," he said told ESPN and the Golf Channel this week. "Instead of four or five times, it would be 20 times. I don't know what the final number is, but that's a big deal to give up control of your schedule. I don't know if the players would be selfness enough to do that."
He does not need the money and he does not want to commit himself to the Champions Tour. He can play in exhibition matches for significant money without having to sacrifice all he has done on the PGA Tour and all the Tour has done for him. Who knows where this new golf league is headed and how legit it is and its long-term viability?
For now, Lefty is playing on the PGA Tour and for fans of his that's great.
I would also say that Philly Mick has done more for the sport in the last few years than anyone else with his match tournaments with Tiger Woods and others. Was the match featuring Woods and Peyton Manning vs. Mickelson and Tom Brady not entertaining? And did Phil not make it that way with his personality?
Look, the guy is funny. Has he not made you laugh at his commercials? Yeah, Rickie Fowler (TaylorMade TP5x) has some amusing commercials, but in the case of Phil the volume of what he has done in his career make these commercials more worthwhile. Fowler is struggling bigtime with his game and has been criticized of paying more attention to his commercials. If he can make money doing endorsements, good for him. It's really a matter of what does he want to do with his life and career?
As for Phil, he is comfortable in his own golf shoes and his Workday shirts.