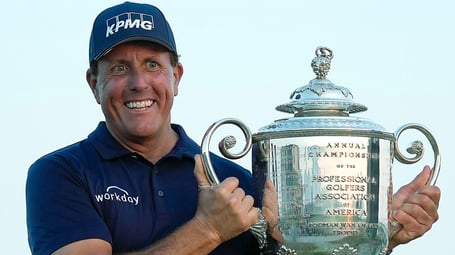 The same people that did the interesting documentary about Tiger Woods (Bridgestone Tour B XS) called Chasing Tiger should do a followup about Phil Mickelson (Callaway Chrome Soft X) and title it Following Phil.
After what he did winning the PGA Championship last Sunday on a course that humbled the best in the game and becoming the oldest person at age 50 to win a PGA Tour major, it added one more layer to his legacy.
A swarm of spectators rushed to be close to Mickelson as he moved toward the green on the 18th hole. It was utter bedlam. And there was Phil, walking calmly, almost Zen-like. I read an article in which a writer said it was the People's Champ walking among the people instead of running away from them.
The PGA has apologized to both Mickelson and runnerup Brooks Koepka (Titleist Pro V1x) for allowing people inside the ropes instead of having tighter security. But given that spectators have only recently been allowed back for PGA Tour events because COVID-19 has been subsiding in the United States and Mickelson was two putts shy of cementing golf and sports history, well, perhaps this was inevitable.
Mickelson is an enduring figure, an individual who has changed the golf world. He isn't just showing people that a 50-year-old can create magic on the golf course, in particular showing he can drive the ball just as powerfully and straight as players half his age; it's the way he does it. Whether wearing sunglasses, chewing gum, doing meditation, and playing with a flatstick that looks as old as him and using a conventional putting grip, Mickelson is so different from others on the PGA Tour.
He is also promoting the sport with his charity Match events. Attracting the biggest names in golf and athletes from other sports – Tom Brady and Peyton Manning – Mickelson is doing his best to take golf and build it with fun events. And the sheer way he enjoys himself in these events makes it enjoyable from a spectator perspective. And those Workday commercials he does show Mickelson is a good actor, too.
He has also shown he can provide expert broadcast analysis should he decide to one day step back and do what Sir Nick Faldo and Johnny Miller have done. But that may be a way off, if at all. He still has so much game in him.
Mickelson recorded his sixth major, but how many would he have had if not battling his nemesis Woods? The fact Mickelson was chasing Tiger, combined with playing aggressively when in some cases a conservative approach may have been wiser, he has to evolve as a competitor. He is a latter-day version of Arnold Palmer having to battle Jack Nicklaus.
"My desire to play the game is the same," Mickelson told the media after his won on Sunday. "I've never been driven by exterior things. I've always been intrinsically motivated because I love to compete. I love playing the game. I love having opportunities to play against the best at the highest level. That's what drives me, and I think that's what it is – the belief that I could still do it inspired me to work harder."
With Woods injured following a car accident and his future status unknown, and with COVID forcing the players to compete without fans until recently, the sport and the PGA Tour needed something positive and uplifting. Mickelson provided that.
How ironic or coincidental that the win came a week after the United States Golf Association offered him an exemption to play in the U.S. Open this year in his home town of San Diego. He initially rejected the exemption saying he wanted to get into the tournament on his own merit, then changed his mind. His win in the PGA Championship makes it moot because of all the exemptions that come his with his latest major.
And you have to believe the spotlight on him in the U.S. Open will be sky high. It's the one major he needs to win to complete his personal grand slam. He's been runnerup six times and he's also been critical of the USGA for making the U.S. Open at times unplayable because of slick greens. Remember how frustrated he was in the 2018 U.S. Open and stopped a moving ball with his putter and the outrage that caused? It was more than just a two-stroke penalty that he incurred; it was damage to his reputation. That was but one of many moments he would like to forget.
There are so many he will cherish. Winning the Masters in 2010, a year after his wife Amy battled breast cancer and he took time off from the PGA Tour to be with him, was absolutely Shakespearean in the way it unfolded. It touched the hearts of so many people in and around the cancer community and the world of sports.
Now this. Simply amazing. Simply Phil.
At a time when he could regularly play the Championship Tour more regularly having turned 50, he is as passionate as ever playing on the PGA Tour against far younger players because of his competitive nature. And good on him.