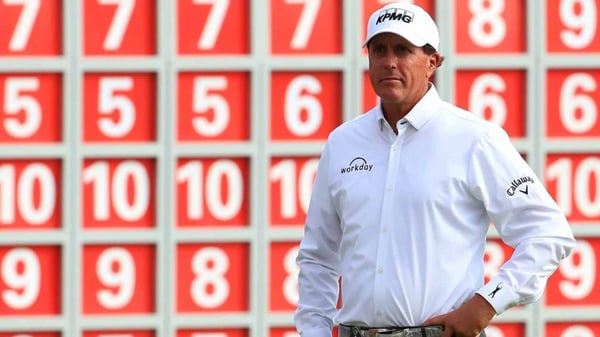 Image Source: Getty Images
The fact Phil Mickelson (Callaway Chrome Soft X) has decided he won't accept an exemption into the 2020 U.S. Open unless he qualifies on his own says a lot about his character and competitiveness.
Mickelson said in advance of this week AT&T Pebble Beach Pro-Am, of which he is the defending champion, that he isn't interested in a free pass into the U.S. Open, the one major he hasn't won in his illustrious career. He's had six runnerup finishes, which in and of itself would be frustrating. But the U.S. Open has also been a trying tournament for him and others because of the way the United States Golf Association sets up the course, arguably the hardest of the four majors. Mickelson took some candidly vicious shots at the tournament two years ago because of the slick greens that made it difficult for the golfers to save par. Balls with little speed suddenly started moving quickly, making it a challenge for everyone.
Mickelson infamously was charged with a two-stroke penalty after he putted and then sprinted to stop the ball once it had gone past the hole and showed no signs of stopping. It was an obvious violation of the rules and Mickelson knew that, but he didn't seem to bothered by it. If the course was set up to make it extremely difficult, Mickelson did something to emphasize his point. He carded a 10 on the par four.
There were some critics who viewed that he should have been disqualified for egregiously violating the rules. But the USGA decided not to do that.
So here we are four months away from the U.S. Open and Mickelson is once again involved in a controversy of pride. If he is able to improve his ranking – he began the week 72nd in the world and needs to vault up to the top 60 by May 18 – he will be guaranteed a spot in the tournament. If he suddenly gets hot – win a tournament or get some consistent top-10 finishes – he will not need an exemption.
It is interesting that the USGA, of which Mickelson has been at odds with for quite some time, could have a bearing on his participation in this year's U.S. Open. Then again, maybe that's why Mickelson doesn't want an exemption. He has always had a stubborn streak.
Mickelson turns 50 two days before this year's U.S. Open and there are many fans who would love to see him do something dramatic and win it. That would be an amazing story. Let's hope Mickelson starts moving up the rankings so he can participate in this year's US Open on his own terms.
Mickelson has been a polarizing figure in his career, but that's because he has always done things his own way, whether it was taking chances he didn't need to earlier in his career and ultimately deciding to take a more pragmatic approach to competing, or becoming friends with Tiger Woods (Bridgestone Tour B XS), who was at one time his bitter enemy.
TOUGH BREAK FOR FINAU: Felt sorry that Tony Finau (Titleist Pro V1) losing in a playoff in last week's Waste Management Open to Webb Simpson (Titleist Pro V1). Simpson made some clutch shots to take away Finau's two-shot lead with two holes to play in regulation play and he registered the win with a birdie on the first playoff hole and Finau couldn't match it. Did Finau lose the tournament or did Simpson win it? It's one of those questions that leads to debates.