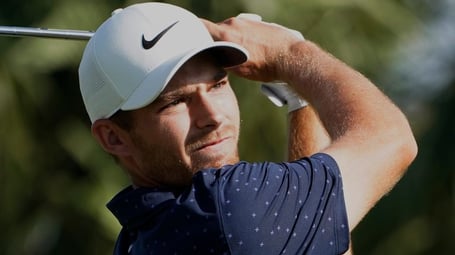 Image Source: SkySports.com
Should the PGA alter its dress code – or at least amend it from what it is now?
I say that partially in jest, but also with a degree of seriousness prompted by what happened last week at the Honda Classic when Wesley Bryan (Callaway Chrome Soft) removed his shoes, socks and trousers to play a ball in the mud on the edge of the water. He was wearing only his underwear and a rolled-up shirt when he attempted to land the ball on the green. However, he only moved it a few feet on to the grass surrounding the green.
If you know anything about Bryan, who happens to be rated 425th in the world, he is an internet sensation having done some amazing trick shots with his brother, George, all out of competition and for fun. The Bryans YouTube channel has 161,000 followers. Wesley Bryan is also sponsored by Dude Perfect, a company which features him doing, you guessed it, trick shots. He is what's known as a golf online influencer, which is to say he has found a way to market his talents.
What he attempted to do last Friday was not intended to be a trick shot. He could have taken a one-stroke penalty and played the ball from the area where the ball eventually landed. That was the practical thing to do, but once a trick-shot artist, always a trick-shot artist. He was already well past the point of coming close making the cut, so he removed his shoes and socks, but rather than roll up his pants, which other players have done in similar shots, he stripped down to his form-fitting underwear and rolled up his shirt. I guess he had the attitude of "why not?" And maybe, just maybe, he knew exactly what he was doing: if he makes the shot, it's going to go viral, if he misses it, it's still going to go viral.
On his Twitter account, which has 24,000-plus followers, he tweeted: "These Hanes were purchased at least six years ago. Not only comfy, but durable." Hanes, which coincidentally has 24,000-plus followers, promptly tweeted: "The most comfy undies by par" and included the footage of Bryan's shot. So far it has 42 likes.
Imagine if Colin Montgomerie had attempted to do this in his prime, notwithstanding the fact he never had the body shape to do it? Would it have been called The Full Monty?
To say Bryan made history, and possibly for all the wrong reasons, is one way to look at it. Then again, some underwear company may approach him to model some ads. Look, he is fit and already a star of some sorts, so it would not be surprising if he is approached to play some additional trick shots in his briefs.
It's worth noting, he is not the first PGA player to play a shot in his underwear. He's not even the first to do it in the Honda Classic. Gary Woodland (Titleist Pro V1x) famously or infamously, did in the final round of the 2016 tournament. He finished tied for 61st after carding an eight-over par on the round and seven-over par on the tournament. He was even-par on the sixth hole when he made his move and it went downhill from there.
Henrik Stenson (Titleist Pro V1) once hit a ball out of the water wearing only his underwear, so in effect he was the forebearer for really stripping down. Justin Rose (TaylorMade TP5) also tried a shot wearing his underwear but wasn't nearly as brazen as Stenson.
But here's a note, which may someday come into play for Bryan. Stenson, Rose and Woodland have all won majors in their careers. Maybe Bryan will do it one day, too.
Bryan has been struggling of late with four missed cuts in his last seven tournaments. Overall, in his last 38 tournaments dating back to 2018, he's missed the cut 18 times and has not had one top-10 finish. In 50 tournaments starting from when he turned pro in 2016, he has posted four wins and eight to-10 finishes. He was the Web.com Tour Player of the Year in his first season. He won his first PGA tournament in his first full season in 2017 with a victory in the RBC Heritage. He finished the season 67th on the world golf ranking. He's fallen downward in the rankings since, hitting triple figures since.
Bryan, who turns 31 on March 26, might look back on what he did and laugh, knowing he wasn't the first one to do and likely won't be the last. Then again, he may make more money in endorsements for this. As the expression goes, he's crazy like a fox. He's also a product of what you can do to become famous through the Internet.