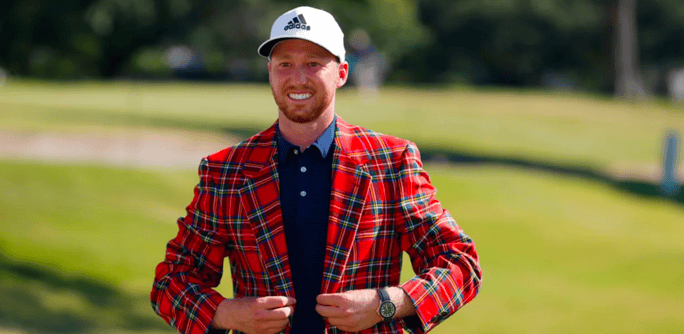 Image Source: PGA Tour
In the end, whether or not there are fans, it all comes down to making the shots on the PGA Tour – that much is certain after seeing the end result of the Charles Schwab Challenge.
There was an assortment of twists and turns, story lines and noteworthy names in the four-day tournament at the Colonial Golf Course in Texas, but in the end, it came down to who could make critical short putts when it mattered most.
Daniel Berger (Titleist Pro V1) won because he could make a short putt for par on the first playoff hole while Collin Morikawa (Titleist Pro V1x) lipped out a short putt for par. He also missed a makeable putt to win the tournament on the final hole.
Xander Schauffele (Callaway Chrome Soft X) had a short birdie putt on the 17th hole did a horseshoe turn. The failed attempt and only making par on the final hole cost him a shot at qualifying for the playoff.
Berger must feel lucky to be playing on a regular basis after a wrist injury put him on the sidelines and limited him to 20 starts last season. For some of the top players on the tour, 20 is enough. For others such as Berger, they could be playing in as much as 30 because they need to accumulate money to preserve their tour card. The victory was only his third since joining the PGA Tour fir the 2014-15 season.
Morikawa is in his second PGA Tour season. Tab this guy as someone to watch for the future, although losing in the way he did could affect his mind. Golf is one of those sports where it is often between the ears where success and failure is defined.
The return of the PGA Tour following a 91-day hiatus due to COVID-19 allowed some semblance of normalcy for golf fans. While charity tournaments are fun and can bring in larger TV viewing audiences – Tom Brady's appearance in the Match II and his birdie from 100 yards out will be the shot of the year – it's less of a competition and more about fun. So, seeing most of the top players on the tour playing gave the Charles Schwab Challenge added meaning.
Make no mistake, the absence of fans because the PGA wanted to exercise safety took away from the competition. The PGA Tour draws fans who are vocal and it matters. The fact fans can get closer to the players than in any other pro sport – and can actually influence shots if they land in the gallery – is what makes the week-to-week tour so engaging. The connection between the fans and players is significant.
Let's hope the fans will be allowed back in the not-to-distant future.