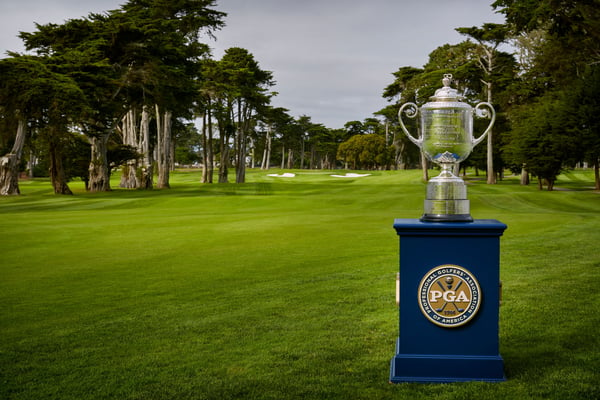 Image Source: Reuters
There's a good news, bad news scenario that the PGA will be up and running in some form by mid-June, barring a change in plans.
The PGA announced last week that the 2019-20 schedule, interrupted by the Covid19 virus, will resume June 11-14 in Fort Worth, Texas with the Charles Schwab Challenge, originally scheduled for May 21-24.
The tournament is slated to be played without spectators, which is one drawback because while the game is played by the golfers it is also a fan experience, particularly when you are watching on television. It is great to hear the gallery express its appreciation for good shots and favorite players.
It is appreciably audible when Matt Kucher (Bridgestone Tour B XS) is in the lead or vying for it or has made a quality shot. It often seems as if he an "aw shucks" kind of reaction. I would love to see him win a major at some point. It would clearly be a popular victory. Ever since the emergence (and re-emergence) of Tiger Woods (Bridgestone Tour B XS), we are now accustomed to hearing "in the hole" or "baba booey." Tiger, more than any other player, created an excitement in the gallery. But there is ton of noise generated by fans of Rory McIlroy (TaylorMade TP5x), Rickie Fowler (Titleist Pro V1) and, of course, Bubba Watson (Titleist Pro V1x). I still can't make up my mind whether there's total buy-in for Brooks Koepka (Titleist Pro V1x).
One of the unfortunate aspects of the resumption date is that some tournaments won't be on the calendar this year, including the Canadian Open. It's kind of my "home" event because it is usually played close to where I live. It would have happened the week before the resumption.
QUESTIONS TO PONDER: Will Koepka will be able to return to the form he had before knee injuries affected his game? His situation reminds me too much of what happened to Woods because of the torque and speed of their swings…Wouldn't it be great to see Jordan Spieth (Titleist Pro V1x) win again? It's just been too long. Hard to know how a player of such dominance lose his game? But he's young enough to rebound, hopefully sooner than later.