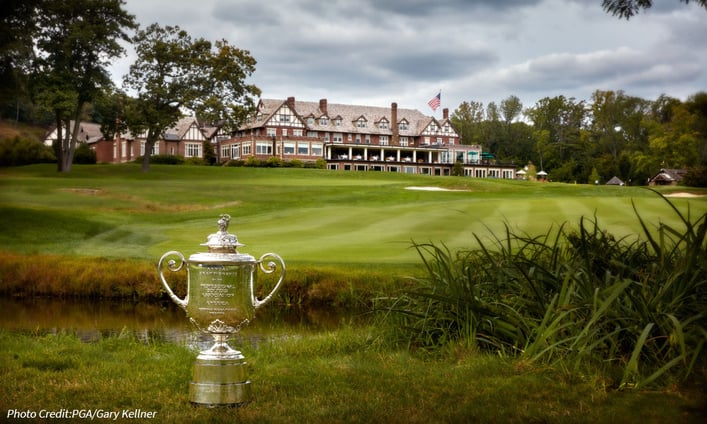 News and views from the world of golf:
The PGA Championship, normally the fourth and final Major, has been moved up from what was usually am August date and takes place next week Bethpage Black Course in Farmingdale, New York.
It will take place less than five weeks after the Masters and is part of the schedule realignment to play a Major ever month from April to July.
After all the excitement of the historic victory by Tiger Woods (Bridgestone TourB XS) in the Masters, the PGA will have an incredible spotlight. In fact, it couldn't come soon enough because the sports world – and not just the golf world – is still basking in the incredible turn of events in the Masters.
Tiger Mania is back. Call it Tiger 2.0. Fans remember him for what he did more than 20 years ago. Now there's a new generation that are coming to understand this.
And in addition to sports fans, I have to believe there are medical people around the world marveling at how someone who endured so many knee and back operations could turn back the clock.
So more than anything what Woods has demonstrated is an incredible drive to overcome incredible odds.
And purely from an elite golf point of view, he is doing so without a coach. After all the swing coaches and various technical changes, Woods is doing it his way.
MAKING MONEY ON TIGER: ESPN revealed a story that bettor James Adducci of Wisconsin, who cashed $1.1 million on Woods winning the Masters by wagering $85,000, has a $100,000 bet on Tiger sweeping the Masters. If Woods win, that's worth $10 million to Adducci.
I like the fact that wagering has factored into sports, in particular golf. When Woods and Phil Mickelson (Callaway Chrome Soft X) were dueling it out in the desert for a winner's share of $9 million, they were also engaging in some high-stakes skins games, albeit for fun – although with the kind of cash that was on the line it was hardly pocket change. Of more importance, Vegas oddsmakers had various types of gimmick wagers, similar to what happens in the Super Bowl.
I see nothing wrong with wagering creeping into golf – it exists in other sports – but a wager such as Adducci's will in itself be an interesting sidebar. I wouldn't be surprised if bookmakers offered more tantalizing bets, such as what happened with Woods and Mickelson, to provide added interest and excitement.
KOEPKA, WATSON ADDED TO CANADIAN OPEN: Brooks Koepka (Titleist Pro V1x) and Bubba Watson (Titleist Pro V1x) have been added to the list of players set to compete in the Canadian Open, which takes place the week before the U.S. Open. Because of the schedule realignment, the RBC Canadian Open, June 6-9, will give competitors a solid tuneup before the tricky U.S. Open – although if the greens are typically slick nothing may help the competitors other than previous experience.
Normally, the Canadian Open follows the Open and many elite players simply skip the Canadian Open because they are either mentally and/or physically drained and it's simply too far to travel "across the pond" as they say and too many time zone changes.
RBC has aligned itself with many elite players such as Koepka, Dustin Johnson (TaylorMade TP5x), Matt Kuchar (Bridgestone Tour B X), Jim Furyk (Callaway Chrome Soft) and Brandt Snedecker (Bridgestone Tour BX). It's a big-time score landing a player of Koepka's stature. The two-time U.S. Open champion has risen to the incredible heights the last two years. Koepka is the defending champion
It had already been announced that Rory McIlroy (TaylorMade TP5x) will be playing in the Canadian Open for the first time.
VICTORY FOR THE LESSER LIGHTS: When Max Homa (Titleist Pro V1) won the Wells Fargo Championship, it was a victory for the lesser-known players. Many premier players plot their schedule for the year, which means there are some tournaments in which the second-tier and third-tier players have a reasonable chance to win. With a $1.4 million winner's share for the Wells Fargo, that's not too shabby. The PGA has a winner's purse of $1.9 and, yeah, it's far more significant to win a Major, but there's nothing wrong with becoming an instant millionaire.