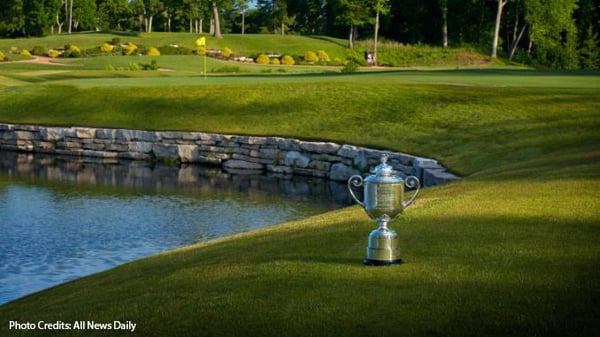 The 2018 PGA Championship concludes this year's four majors, which will undergo a significant schedule change next year, and I can't make up mind between picking Dustin Johnson (TaylorMade TP5x) or Justin Rose (TaylorMade TP5x).
It's been somewhat of a frustrating year for Johnson, in particular with his putting at times, but he's been finishing strong in recent weeks
If you exclude the Open, he really hasn't done that poorly this year in the majors.
I like the way he bounced back from the Open with an easy win in the Canadian Open and the way he finished last week in the Bridgestone Invitational, which essentially was a prep for this tournament.
I also like the fact that, since he lost his world number one ranking, he has responded with a win and two third-place finishes.
And now, for my thoughts on Rose. I absolutely love his consistency, having survived the cut in all 13 tournaments in which he's played this year and has finished in the top-10 eight times. He has also played decently in the three others majors this year. In his last four tournaments, he has a win, a tie for second and two top-10 finishes.
He would be my pick going into this tournament, but I'm troubled that he missed last week's Bridgestone Invitational with a wonky back, a problem he has had in the past. I think back to last year's Masters and the many months it took Johnson to recover from the fall he took the night before the tournament.
So, I'm giving D.J., the nod and going against my theory of not picking favorites.
I think I've had some good picks this year with my long shots, just in the wrong tournament. I think of Tommy Fleetwood (Titleist Pro V1x), who placed second in the U.S. Open. I think Fleetwood is on the cusp of a big win – maybe even this one – if he doesn't get down on himself. I really like his overall consistency, making 14 of 15 cuts. While he has yet to win a tournament this year, he has finished in the top-10 five times.
Here are thoughts on some other players:
Justin Thomas (Titleist Pro V1x) won the Bridgestone and is the defending champion going into this tournament. But going back to some of my old theories, I don't like picking a player to win back-to-back tournaments, and I don't like selecting the defending champion.
Jason Day (TaylorMade TP5x): He has made 14 of 15 cuts this year and has been hovering around fifth place in the FedEx rankings since winning the Wells Fargo Championship. I think he shows signs of a big move.
Patrick Cantlay (Titleist Pro V1x): My long shot special. He's made 16 of 18 cuts this year and has six top-10 finishes, two in the last five.
Jon Rahm (TaylorMade TP5x): Has truly had a disappointing season, but at any point he's capable of pulling one out of the bag, so to speak. Maybe this is the time.