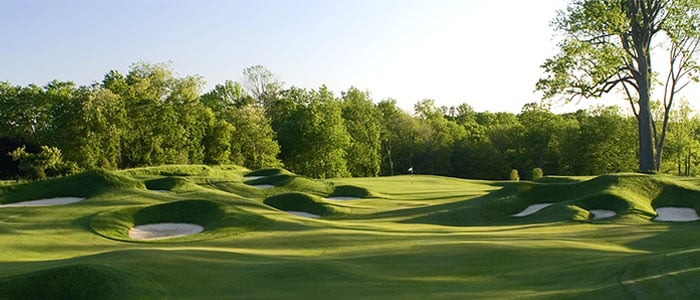 It's PLAYERS Championship week and that means a steady diet of golf the way Pete Dye intended it to be: challenging, dramatic and anything but boring.
Dye's Stadium Course at TPC Sawgrass has a history as unique as its infamous 17th hole. Back in the early 1980s, then PGA TOUR commissioner Deane Beman bought 415 acres of wooded wetlands and swamp for $1. He then commissioned Dye to design a golf course that favored no particular player and focused heavily on spectator viewing. Dye delivered: the Stadium Course has a wide variety of short and long par-3s, par-4s and par-5s. Oh, and that island green? We can thank Dye's wife, Alice, for that amazing golf hole, it was her idea after all.
Ever since 1982, Dye's Stadium Course at TPC Sawgrass has produced some of golf's most memorable moments. So, in honor of golf's "fifth" major the LostGolfBalls team has put together our top 5 list of Pete Dye's most entertaining and dye-abolical (see what we did there?) designs. What's your favorite Dye course, we'd love to hear from you in the comments below.
5) Pound Ridge Golf Club (Pound Ridge, NY)
Less than 50 miles due north of New York City, Pound Ridge Golf Club is one of Pete Dye's finest public layouts. Conceived in the late 1990s and designed by Pete, his son Perry and long-time lead shaper Michael Langkau, Pound Ridge is hewn from 172 aces of magnificent cliffs, streams and wooded hills. Dramatic rock formations sprinkled along fairways and by greens create a visually stunning and demanding test of golf.
Among the memorable holes at Pound Ridge is the par-5 13th that features a giant boulder resting in the middle of the fairway. The par-3 15th hole is home to an elongated green – some 9,000 square feet – and a stern rock face serving as an unpredictable backboard for long shots.
More info: www.poundridgegolf.com
4) Harbour Town Golf Links (Hilton Head Island, SC)
The site of the PGA TOUR's RBC Heritage since 1969, Harbour Town Golf Links is famous for its narrow, tree-line fairways, overhanging oak trees and postage-stamp greens. Co-designed by Dye and Jack Nicklaus, Harbour Town will test every golfer, from beginner to seasoned TOUR veteran.
Aside from perhaps having the strongest collection of par-3s on any Dye course, the finishing two holes at Harbour Town are beyond spectacular. The 17th is a medium-length par-3 that plays out to the Calibogue Sound with trouble looming long, left and short (right is no joke either). The par-4 18th is one of golf's most iconic finishing holes. Interesting to note, while Harbour Town is known for slender landing areas, the 18th features the widest fairways on the PGA TOUR.
More info: www.seapines.com
3) The Ocean Course at Kiawah Island Golf Resort (Kiawah Island, SC)
Hands down, one of the best and hardest golf courses in America. Constructed in 1991 by Pete and Alice, the design takes advantage of amazing views of the Atlantic Ocean, not to mention the gusty winds that often whip through the region. Site of the 1991 Ryder Cup and 2012 PGA Championship, Dye's Ocean Course stretches to 7,873 yards, has a slope of 153 and course rating of 79.7, the highest in the country according to the United States Golf Association. There's a reason why this stunning creation is a mainstay on several publications' "Top 100" lists for both its beauty and brawn. Trust us, after a few holes you'll understand.
Fun fact, the course is so pretty it event went to Hollywood; the "The Legend of Bagger Vance" starring Matt Damon and Will Smith was filmed there in 2000.
More information: www.kiawahresort.com
2) Stadium Course at TPC Sawgrass (Ponte Vedra Beach, FL)
One of Dye's most widely discussed designs; the Stadium Course at TPC Sawgrass has been the home of the PLAYERS Championship since 1982. It's a true ode to tournament golf, with holes designed for timely birdies and quick bogeys, and dozens of prime viewing areas for spectators.
The closing three holes of the Stadium Course are among Dye's best. The reachable par-5 16th is one of golf's greatest risk-reward shots; the 17th is one of the hardest 137-yard tee shots you'll ever have to hit and the par-4 18th is more demanding than a NAVY SEAL drill sergeant. If you think watching those holes on TV is nerve wrecking, try playing them!
More info: www.tpc.com/sawgrass
1) The Straits Course at Whistling Straits (Sheboygan, WI)
The Straits Course at Whistling Straits is Dye's magnum opus, his greatest gift to golf. Set along the shores of Lake Michigan, the breathtaking layout ushers you back to golf of old, when golf balls were made of feathers and clubs were carved from wood. The site of the 2004 and 2010 PGA Championship, and future home to the 2020 Ryder Cup, Whistling Straits features nearly 1,000 bunkers, several holes along the coast and even a flock of sheep to tend to the high grass. It took more than 800,000 cubic yards of dirt and sand to build this classic, links-style layout; the Straits should be on every golfer's bucket list.
While every hole at Whistling Straits could be its own poster, the final two holes really stick out. The long, par-3 17th is named "Pinched Nerve" and for good reason, the lake is all down the left-hand side and the green is elevated and guarded by deep bunkers and signature road ties. The 18th named "Dyeabolical" (ah, there it is again) is a beast of a finishing hole, requiring two forced carries to very deep and undulated green. Hats off to Dye, he sure knows how to put an exclamation point on your round.
More information: www.americanclubresort.com
Honorable Mention (Check these out too!)
Wintonbury Hills Golf Course (Bloomfield, CT)
The Dye Course at PGA Village (Port St. Lucie, FL)
Trump National Golf Club Los Angeles (Rancho Palos Verdes, CA)
The Pete Dye Course at French Lick Resort (French Lick, IN)
Brickyard Crossing (Indianapolis, IN)
Pete Dye River Course of Virginia Tech (Radford, VA)
River and Medlow Valleys Course at Blackwolf Run (Kohler, WI)