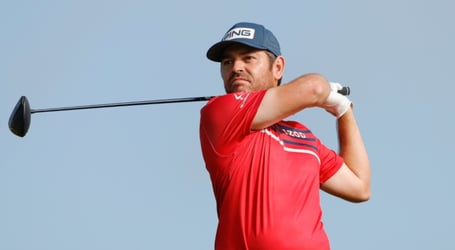 Maybe the golfing gods will finally give Louis Oosthuizen (Titleist Pro V1) a win after all the tough beats he's gone through this year.
Halfway through the 2021 Open Championship, Oosthuizen has a two-stroke lead and looks as poised as ever. Many people liked his chances after runnerup finishes in the U.S. Open and PGA Championship this season. The 38-year-old South African came into the tournament having made the cut in 15 of 16 tournaments, including three seconds, one third and six top-10 finishes. Maybe, he'll add a win to that impressive tally. If he does, he's the obvious pick as PGA Player Of The Year.
He won the tournament in 2010 by seven strokes. Could he win in a similar fashion this year? I'm sure he'll be happy to win even if it's just by one stroke. In what has been an incredible year on the PGA Tour with so much drama, Oosthuizen has been so good. He is proof you don't have to have power and strength to be good; you just need a fluid swing. His is oh so smooth.
In a radio interview I heard this week, former PGA player Brad Faxon was asked by a show host if it's fair to say Oosthuizen has proven he hasn't been able to close out this year. Faxon said a different way of looking at it is Oosthuizen has yet to finish out. I guess it's how you look at it, but Oosthuizen would be a popular winner if he prevails and will dispel the idea he can't close out.
And by the way, did you know his full name is Lodewicus Theodore Oosthuizen? That sounds like South African royalty.
And what of Collin Morikawa (TaylorMade TP5), the 24-year-old Californian who served notice of his ability when he won the PGA Championship in 2020? He finished tied for fourth in the U.S. Open this year and is doing well for the first time in the Open Championship. Morikawa has superstar status written all over him and a win in the Open Championship would further underline that.
Then there is Jordan Spieth (Titleist Pro V1x), who won the tournament in 2017 on the strength of an incredible shot on the 13th hole to record a bogey instead of something much worse. This has been a turnaround season for Spieth, who went through a winless drought of almost four years before prevailing in the Texas Open in April. He gave himself plenty of time to prepare for the Open.
And by the way, doesn't it seem as though Spieth is way older than 27?
And remember in my preview how I said an Englishman might win and bring some joy to the country after its stunning loss in EURO2020? Well, if that does happen it won't be my pick. Tyrrell Hatton (Titleist Pro V1x), whom I thought could do it, didn't make the cut, but Andy Sullivan (Titleist Pro V1x) is in the thick of it, five behind Oosthuizen. The 35-year-old Englishman finished tied for 12th in the 2016 Open Championship. He's largely played on the European Tour and has yet to win a PGA Tournament.
And lest we forget Bryson DeChambeau (Bridgestone Tour B X), who blamed his poor first round play on his driver and then did a major apology on social media after upsetting the folks at Cobra. Well, he just barely survived the cut. There's always something going on with the guy whose initials are B.A.D.
Enough said.