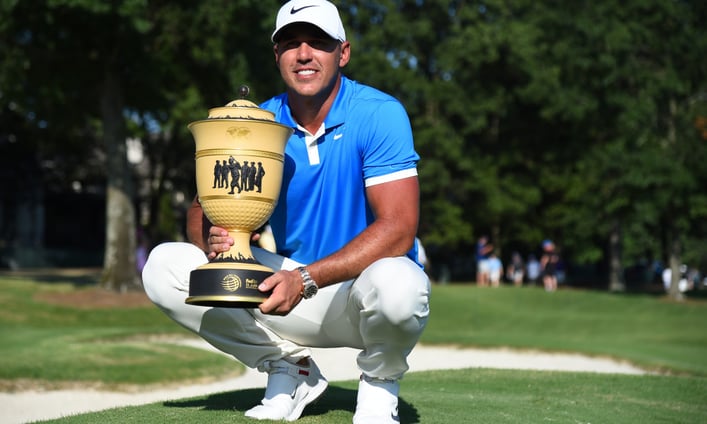 Image Source: Christopher Hanewinckel-USA TODAY Sports
If I wasn't already apparent heading into the 2018-19 PGA Tour season, it has certainly been underlined with increasing regularity in seven-plus months. There is no one that can consistently compete with Brooks Koepka (Titleist Pro V1x).

In fact, Koepka is becoming what Tiger Woods (Bridgestone Tour B XS) was to the game of golf 20 years ago – a generational player.
The only difference between the two is that Tiger was an immediate sensation upon joining the PGA Tour fresh out of the amateur ranks, while Koepka had to slug it out in Europe before beginning his ascension to greatness.
Koepka doesn't have a nickname that Woods did an early age and grew that into marketing immortality as he evolved into a superstar who throttled his opponents.
For now, simply saying Brooks in the world of golf says it all.
He doesn't seem to have the temperament and personality that will make him an international superstar that will emerge into the mainstream of sports, but that's probably not an issue. Tiger took golf and changed it from an elitist sport to an every man sport and lifted the color barriers. It could also be said that he was part of the reason that the game became more accessible to women, in particular in clubs and tournaments that were limited to only men. He simply changed so much about the game used to be.
This does not mean that Koepka cannot be a pioneer or an inspiration if he so chooses. That isn't his responsibility. It wasn't Tiger's either; it just happened.
Purely by letting his game speak for himself, Koepka is pivotal. If you analyze his game, there are few faults. He has power and precision off the tee, a sound short game and a great feel on the greens. He is like a baseball power that has all the tools.
It also seems that the bigger the tournament and the more the competition rises, he is capable of switching gears or, to use another expression, turning it up a notch.
The World Golf Championships-FedEx St. Jude Invitational was only the latest example. Rory McIlroy (TaylorMade TP5x), seemingly in the zone, shot an eight-under 62 in the third round to take a one-stroke lead over Koepka. To his credit, McIlroy put aside the disappointment of missing the cut in The Open Championship in his home town by one stroke and refocused. Koepka, meanwhile, also had to erase the week before when he finished in a tie for fourth in the tournament with a disappointing three-over par final round.
The one constant about Koepka is his lack of emotion. He always seems to be even keel, rarely getting overly dramatic when he makes a mistake or a great shot. Look, the game of golf is far more mental than physical, and there is really little separating the top players. McIlroy came into this season claiming to have changed his mental approach. You can't simply say that he's lost it based on the last two tournaments, although finishing one-over par in the final round of the WGC was clearly not the finish he wanted. He is still having a great season.
What happened in the final round of the WGC reminded me of what Woods used to do playing in the final pairing with an opponent leading or tied for the lead. He mentally wore them down with his shots and, to some extent, killer instinct. He simply did not like to lose.
I see the same thing with Koepka. I think about how he approached the 2019 RBC Canadian Open and openly admitted he didn't care if he won or lost; he was merely hoping to play well to tune himself up for the U.S. Open, which he'd won the previous two years. He didn't win it three in a row, but it was only because Gary Woodland (Titleist Pro V1) finished with the round of his life. Nothing against Woodland, but I'd take Koepka over Woodland in a match-play tournament any day.
Koepka finished the WGC with a five-under par and won by three shots over Webb Simpson (Titleist Pro V1), who finished with a six-under par. Koepka arrived at the course an hour before his tee time. Now that's confidence.
I read one columnist who said that following the PGA Tour's schedule re-alignment there would be little interest following the conclusion of the four majors in August. But if you truly love the sport, following Koepka leading up to the Tour Championship Aug 22-25 in Georgia will be fun. Tiger won it last year, providing a dream finish, only to be overridden by what happened this year in the Masters.
Tiger's future is uncertain, mainly because of his physical health issues again.
But there's a new titan on the tour. All he really needs is a nickname.