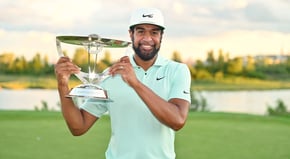 Some passing thoughts as the FedEx Cup playoffs are two tournaments away from crowning a champion.
Tony Finau (Titleist Pro V1) can finally – maybe even mercilessly – not have to be reminded of the last time he won a PGA tournament after prevailing in the Northern Trust.
It had been a while, five years to be precise, and everybody who is a fan of his – and there are many – were hoping he would end that long drought.
It was appropriate he won it in a playoff, beating the Mullet Man, Cameron Smith (Titleist Pro V1) after losing a "sudden death" scenario earlier this season against Max Homa (Titleist Pro V1) in the Genesis Invitational.
I guess it's true that good things come to those who wait.
By the way, Finau is a Samoan word that translates to argumentative. There is no arguing the 31-year-old Finau is among the best young players on the PGA Tour.
THE LASTEST ON BRYSON: Perhaps it shouldn't have come as a great surprise that Bryson DeChambeau (Bridgestone Tour B X) has accepted an invitation to compete in the World Long-Drive Competition. Bryson can let it rip without having to worry about his second shot and whether it gave him a good look at the pin.
"This is an amazing opportunity to grow the game and the sport in general," he announced on his Instagram account. "I want to show the world how incredibly talented and hard-working these athletes are. I've been working hard to get my game up to their speeds, so I have a chance, but will still continue to play my best golf with my regular day job."
The tournament runs from September 28 to October 1 in Nevada, following the Ryder Cup. It could be a September to remember for Bryson with the Tour Championship, Ryder Cup and then the World Long-Drive Competition, each of which provides a different physical and mental approach.
I've watched the World Long-Drive Competition many times and it's amazing to see men and women launch balls with purpose, poise and power. The adage is true that you drive for show and play for dough. Though golfers use their drivers potentially only 14 times in a round and most recreational players practise their tee shots more than their irons, there is nothing more satisfying than seeing a ball fly off of the tee. It is especially true now with all the data that is available providing distance and club speed and manufacturers marketing the latest clubs to hit longer and straighter.
Like or loathe him, the man known as B.A.D. is a polarizing figure because what he has brought to the PGA with what can best be described as a soap opera this season. To wit: splitting with his longtime caddie before a tournament in which he was the defending champion; speaking or not speaking to the media; engaging in a verbal Twitter spat with Brooks Koepka (Titleist Pro V1x); losing 10 pounds after contracting COVID and openly defending his reason for not getting the vaccine; throwing manufacturer Cobra under the bus by blaming his driver for his poor play in the first round of the Open Championship and then offering an apology; and now the World Long-Drive Competition.
This has been The Season of Bryson.
There's no question Bryson will bring eyeballs to the World Long-Drive Competition, and the one thing he understands is self-promotion. But this much is true: some of his competitors may be physically bigger than him – with or without the use of protein shakes and burning off 3,500 calories a day.
THE CANADIAN CONNECTION: I will be choosing Corey Conners (Titleist Pro V1) this week for the first time in the PG Golf competition. Being a Canadian I'm not sure why I have stubbornly gone against my countryman, but I'm going big on him this week – and hope I don't curse him. By the way, is there anybody on tour with a sweeter swing than Conners? As an aside, he's from Listowel, Ontario, the same tiny town in southwestern Ontario as my daughter Shayna's friend, Brenda. Hey, I just wanted an excuse to throw in my daughter.