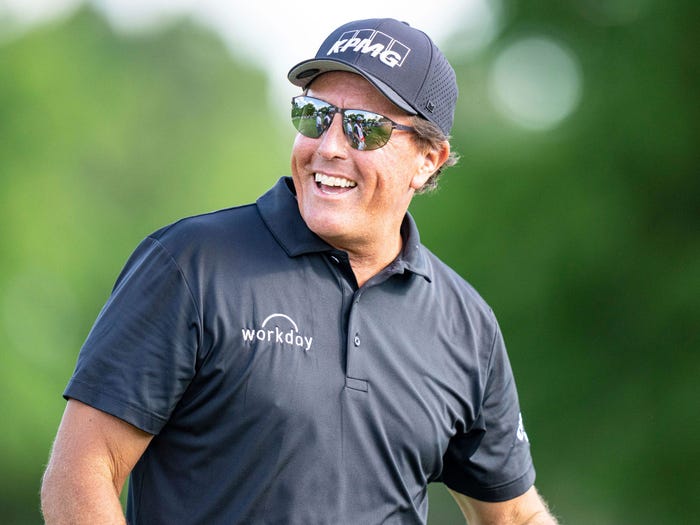 Now that the 2020-21 PGA season is finished, here are my memories of what I thought was an epic week-to-week running story line that was impactful because of COVID-19:
THE LEFTY SHOW: Topping the list of good is the victory by Phil Mickelson (Callaway Chrome Soft X) in the PGA Championship. Lefty turned back the clock winning his second PGA Championship and sixth major. Moreover, at age 50 he became the oldest player to win a major and the third to win one in three decades. And the fact he did it in his home town of San Diego added another layer to it all. Everyone will remember that epic scene as he walked towards the final hole, enveloped by a gallery gone wild with unbridled enthusiasm, with little care for physical safety or COVID distancing. It was kind of like he was leading an army and poor Brooks Koepka (Titleist Pro V1x) had to weave his way through it. Clearly, it caught the tour organizers off guard and protocols were put in place to make sure that didn't happen again.
THE YEAR OF THE RAHM: What seemed like a cruel sentence by the golfing gods when Jon Rahm (Callaway Chrome Soft X) had to withdraw from the Memorial Tournament after the third round when leading by six strokes turned out to be a temporary disappointment. Rahm returned to competition less than two weeks later and won the U.S. Open, his first major.
SAINT PATRICK: Proving his heart and his talent, Patrick Cantlay (Titleist Pro V1x) finished the season strongly, winning the Tour Championship and the FedEx Cup, a week after winning the BMW Championship on the sixth hole of a sudden-death playoff over Bryson DeChambeau (Bridgestone Tour B X). He won four tournaments and was the only Tour player to win more than two. For someone who battled a bad back that forced to the sidelines for all of the 2016, he has made an incredible turnaround.
THE GREAT BUNKER SHOT: When Koepka holed out from the bunker on the 17th hole of the Waste Management Open, it led to him winning. He has battled a wonky knee the last few seasons, but there's no denying he's got game and proved it in this tournament.
SPEITH IS BACK: After almost four years of failing to win a PGA Tour event, Jordan Spieth (Titleist Pro V1x) signalled his comeback winning the Valero Texas Open in his home state of Texas. Officially it was 83 tournaments and 1,351 days.
OLDIE BUT GOODY: Stewart Cink (Titleist Pro V1x) won two tournaments at the age of 48 and it proved to be a feel-good story with his son, Reagan, on the bag, and earning more than $3.5 million.
WESTWOOD'S TWO-WEEK RUN: Over the course of 14 days, 48-year-old Lee Westwood (Titleist Pro V1x) turned back the clock and played valiantly with his fiancée, Helen Storey, on the bag. He finished second in the Arnold Palmer Invitational and The Players Championship. All that was missing was a victory.
THE BRYSON SHOW: The entire season was basically a running soap opera for DeChambeau, and while there were many things he did that could best be described as either questionable or infamous – blaming his driver for a bad round and then having to apologize to his equipment manufacturer – he had a good season winning two of 22 events, making the cut in 20 and earning almost $7.5 million. If he could ever master his emotions, there's no telling how good he can be.
OOSTY'S CONSISENT PLAY: While he did not win an event in the 21 in which he competed, 38-year-old Louis Oosthuizen (Titleist Pro V1) had four runnerup finishes and made the cut in all but one tournament. He was a constant factor in the majors, placing second in the PGA Championship and U.S. Open and third in The Open Championship.
FINAU FINALLY DOES IT: It became almost a running story line if Tony Finau (Titleist Pro V1x) would shake off the time between his first and second PGA victory. Well, it took almost five years, but Finau ended the gap winning the Northern Trust in a playoff over Cameron Smith (Titleist Pro V1x).
SMITH'S HAIR: Smith's mullet was prominent throughout the season. The 28-year-old Aussie flashed an '80s look and despite urging from his girlfriend, Jordan Ontiveros, who is a golfer, Smith didn't shear his locks. It was a hoot seeing fellow Aussie Marc Leishman (Callaway Chrome Soft X) wear a mullet wig prior to the third round of the Zurich Classic, which he and Smith won.
THE SEASON OF THE PLAYOFF: It seemed like a playoff each week at the tail end of the season. None was more exciting than the BMW Championship, but it's hard to remember a season in which so many tournaments required extra holes to determine the winner.