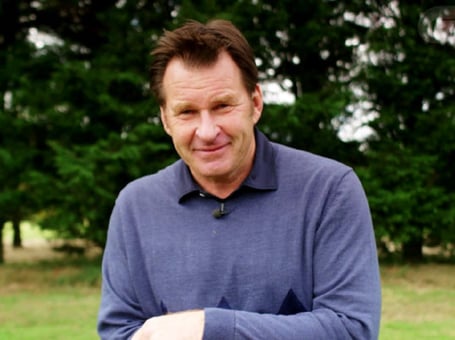 Sir Nick Faldo likes one of my tweets.
Last week I tweeted about Sir Nick after he made a comment about Cameron Smith (Titleist Pro V1x) during the broadcast of the Zurich Classic. Faldo joked about Smith's mullet hairstyle and referenced the '80s English band Haircut 100. Now I'm an '80s guy, although in truth my preference is '70s music with the legendary bands The Who and Led Zeppelin toping the list. Haircut 100 had a few hits in the day, including Fantastic Day, Favourite Shirts and Love Plus One.
Faldo also referenced the Favourite Shirts because Smith is not only popular with his hair, but also with his shirts, which are quite brilliant in terms of colours and designs. He's sponsored by Penguin Golf and I have to believe he's going to be making a few bucks with that because he's young and hip.
Is hip still a word? Okay, he's young and cool? Is cool still a word? Okay, he's dope.
And he's a good golfer.
When I tweeted about Sir Nick and the Haircut 100 comment, he gave it a like. Was it really Sir Nick? Hopefully. Was it someone monitoring his account? Maybe.
But I consider that a bucket list item that I just checked off.
I replied to the account asking him to read my LostGolfBalls blog.
Incidentally, speaking of the '80s and haircuts, I know Mike Score, lead singer of the band A Flock Of Seagulls, who rocked one of the weirdest 'dos of his generation. It was called a waterfall because it was spiked on the sides and the bangs practically covered one eye. How it happened is legendary. While Mike was sitting in front a dressing room mirror prior to a show, one of his bandmates, Frank Maudsley, pressed one of his hands over Mike's hair while trying to arrange his own. At that exact moment, the band was called on stage and Mike had no time to restyle his hair. So he went on stage with the look and the crowd loved it. It became his look for every show and at times he really exaggerated it for effect.
That look has been imitated many times in films and commercials. In a famous scene in The Wedding Singer starring Adam Sandler, his character, Robbie Hart, rushes to the airport and is greeted by a ticket agent with a Mike Score hairdo. The agent asks, "Hey, do you like A Flock Of Seagulls?"
"I can see you," Robbie replies.
But back to knowing Mike. I met him a few years ago through a mutual friend, Ed Sousa, who manages a bowling centre called Classic Bowl near where I live in the west end of Toronto. Ed loves '80s music and once approached Mike while he was sitting at a bar after a show and told him he was a fan of the band. Mike engaged in a pleasant conversation with Ed and that led to a friendship. In the last five years, Ed has brought '80s bands into the bowling centre to do concerts in which the proceeds go to various charities. Yeah, music concerts at a bowling centre. Crazy, isn't it? Mike has done several shows there with the latest iteration of A Flock Of Seagulls or with other bands.
Mike has long since shaved off his hair because he thought he was becoming a parody of himself. And what's most funny about all of this is that Mike was a hairdresser before he became a musician.
Incidentally, some of the shows at Classic Bowl are done with the lanes closed off and replaced with a professional stage with quality speakers, microphones and lights rented from a company that specializes in concert production. It's called MetalWorks Studios and its founder and chief executive officer is Gil Moore, one of the members of the Canadian powerhouse trio Triumph, which was huge in the '80s in the metal genre. Gil lives and works near where I live and we've become friends over the years. Yeah, I'm name-dropping again.
Gil has a low golf handicap and has played in some of the most celebrated courses in the world. He often goes on yearly golf excursions with two of his music buddies – Tom Cochrane, who has had an assortment of hits such as Life Is A Highway, Big League and White Hot, and Alex Lifeson, lead guitarist for RUSH. And if I had to list all of RUSH's hits, it would be way too long.
By the way, Smith and Marc Leishman (Callaway Chrome Soft X) won the Louisiana tournament that consisted of teams of two players. It was a huge achievement for the two Australians. And if you know anything about Australia, they are proud of their people and celebrate by loudly proclaiming, "Aussie, Aussie, Aussie."
Smith said after the victory that even though he promised his fiancée he would cut his hair, he's now giving it second thoughts. I worry that if he cuts his hair he will become like Samson and lose his power.
So there you have it, a stream of consciousness about golf and music.
Thank you, Sir Nick Faldo, for giving me a topic to write about this week. And if you have a chance, please read my blogs.