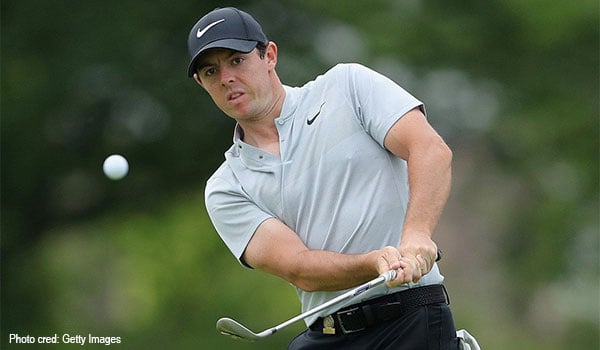 Image Source: PGA Tour
It was kind of fitting that at the end of the 2018-19 PGA Tour season Rory McIlroy (TaylorMade TP5x) would win the Tour Championship and the FedExCup.

This was supposed to be a big year for the Northern Ireland native because he had developed a different mindset, one in which he wouldn't get too beat up if he had a bad round or a bad tournament, or wouldn't be bothered by what was said or written about him on social media.
He had some trying times this season, none more so than in The Open Championship. Virtually playing at home because he grew up only a half hour away from Royal Portrush and picked by many pundits to win the tournament because it was on a course he knew well, it was not to be for Rory. He started off poorly on the first two holes and was playing catch up the rest of the way and finished eight-over par. He did, however, manage to regroup with a solid second round and shot six-under par and just missed the cut by one stroke.
Failing to qualify for weekend play in The Open Championship could have been the type of thing that would have derailed the highly-emotional player. But McIlroy played well enough with top-10 finishes in his next two tournaments to give himself a good chance in the Tour Championship, though he started five strokes behind Justin Thomas (Titleist Pro V1).
Similar to when he was on his game from the get-go in wins in The Players Championship and RBC Canadian Open, McIlroy put himself in position in the first round with a four-under score. He followed with a three-under in the second round and a two-under in the third round, played over two days because of lightning that halted play early in the third round. He posted a four-under park in the final round to win the Tour Championship, his second since 2016.
Thomas, who played so well to win the BMW Championship the week before, began the Tour Championship with the automatic lead at 10-under par, two ahead of runnerup Patrick Cantlay (Titleist Pro V1x). Thomas battled consistency problems and ended up tied for third with Brooks Koepka (Titleist Pro V1x). Koepka faltered on the final day, squandering a chance to win the tournament although he still finished the season ranked number one in the world.
So McIlroy collected a record $15 million for winning the FedExCup, which was merged with the Tour Championship, whereas in years past there was a prize for winning the Tour Championship and a prize for winning the FedExCup.
The FedExCup is still, in my opinion, a tad confusing. Players who had not won a tournament this season still qualified for the Tour Championship based on points in the FedExCup, while others who had won a tournament, notably Tiger Woods (Bridgestone Tour B XS), didn't qualify. His victory in last year's Tour Championship represented a historic comeback for Woods, highlighted by this year's Masters win. If you win a tournament, notably the Masters, there are various bonuses that go along with that, such as automatic entry into other tournaments. I believe that previous winners of the Tour Championship should automatically be granted an exemption to play in it for at least 15-20 years.
I just think it's good for the game, good for the fans, and good for TV.