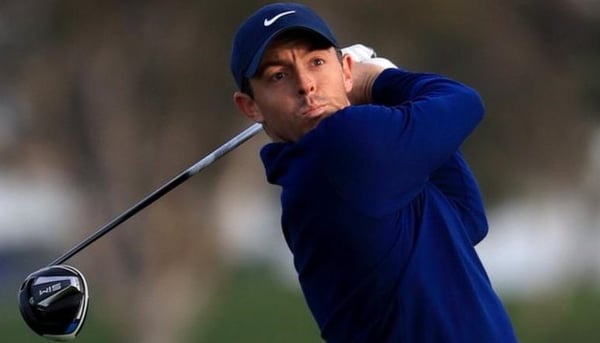 Image Source: Getty Images
The key to success in golf is consistency and that certainly has been the case for Rory McIlroy (TaylorMade TP5x).
McIlroy has had seven top-five finishes in a row, matching what Tiger Woods (Bridgestone Tour B XS) did in 2000 when he began his run of greatness.
McIlroy has held the official world number one ranking for 100 weeks, becoming only the third player in history to do so. Woods is the all-time leader with 683.
Consistency matters because all the golfers on the PGA Tour are fine-tuning their game leading up to the Masters, beginning April 9.
All eyes will be on McIlroy this week at the Players Championship in Ponte Vedra Beach, Florida as he tries to win the tournament for the second consecutive year. Based on what he's done in the last seven tournaments, it would be difficult to bet against him.
The Players Championship is considered the unofficial fifth major. Any elite player seeking a really good test to continue to fine tune their game will be there.
What's interesting about McIlory is the revelation this week that he has become interested in reading books about psychology and self-help. One book he talked about this week is Ego Is The Enemy, by Ryan Holiday, which was published in 2016 and portrays various people in history who have attained success by conquering their ego.
"I've learned over the last few years that you're not going to please everyone and not everyone is going to like you," he told the media. "As you grow up, I certainly had an ambition or tried to do things for people. I just basically learned no matter what you do, there's some people that are going to like you and appreciate what you do and there's some people that you just won't be able to please. I think I came to terms with that a few years ago and am definitely a lot more comfortable in my own skin because of it."
A few years ago, he was involved in social media feuds with golf analyst Brandel Chamblee and PGA Tour player Steve Elkington, who were critical of him. But that is all in the past. How can you criticize him for what he's done in the last two years?
It was almost three years ago that McIlroy wed and perhaps the combination of marriage and self-help books have helped him to find inner peace on and off the golf course.
It wouldn't be entirely surprising if McIlroy continues with his consistency. McIlroy will be paired with Jon Rahm (TaylorMade TP5x) and Brooks Koepka (Titleist Pro V1x), for the first two rounds of the Players. The idea of pairing star players in "Super Groups" has been a great idea. Both Koepka and Rahm have added incentive this week. Koepka, the PGA Player of the Year in 2018 and 2019, has been struggling, perhaps a product of the knee injury he played through last year. It says something of his talent that he won three times, including the PGA Championship, while physically not at his best. Rahm was the leader through three rounds of the Players last year, but ended up in a tie for 12th after shooting four-over-par on the final 18 holes.
Rahm is ranked number two overall and, pending on what he and McIlroy do this week, might move up to number one. That should make for added excitement in what is always one of the most-anticipated tournaments of the PGA Tour season.