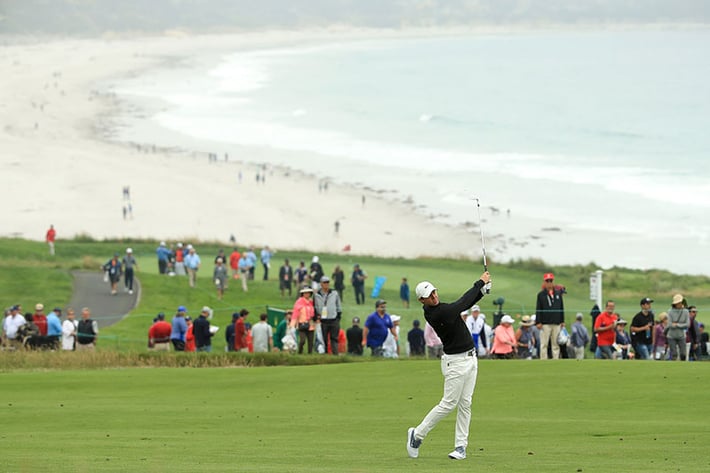 Image Source: Andrew Redington/Getty Images
Following his tour de force victory playing in the RBC Canadian Open, the question for Rory McIlroy (TaylorMade TP5x) is whether he can continue that type of performance in this week's U.S. Open at Pebble Beach?
Following some lackluster performances after winning the Players Championship in March, including failing to make the cut in the Memorial Championship earlier this month, McIlroy played virtually error-free in the Canadian Open, finishing with a tournament record 22-under par and a final day record of nine-under par.
And it's not as if he did it against a watered-down field.
Four of the top six players in the world were in the tournament at the Hamilton Golf and Country Club, including Brooks Koepka (Titleist Pro V1x), defending champion Dustin Johnson (TaylorMade TP5x) and Justin Thomas (Titleist Pro V1x). There were also a slew of top-10 players, including FedEx Cup leader Matt Kuchar. Koepka was not a factor in any way, finishing tied for 52nd with a final round of even-par and two-under par overall. That said, he entered the tournament saying he didn't care whether he won or not and was more concerned about making good shots. In some respects, he was merely using the Canadian Open as a tuneup to try to win his third consecutive U.S. Open. Johnson was scuffling throughout the tournament, struggling with putts, but finished tied for 20th at seven-under par, the same as Thomas.
Kuchar entered the final day tied with McIlroy and Webb Simpson (Titleist Pro V1x). Kuchar (even par in the final round) and Simpson (two-under par) were simply no match for McIlroy. Simpson finished tied for second with Shane Lowry (Titleist Pro V1), while Kuchar was tied for third with Brandt Snedeker (Bridgestone Tour BX). Snedeker, a previous winner of the tournament, carded a course-record 10-under par in the second round.
It should be noted that Kuchar, Johnson, Snedeker, Kuchar and Adam Hadwin (Callaway Chrome Soft X) are sponsored by RBC. Hadwin finished as the top Canadian in sixth place at 12-under par. RBC made a wise decision years ago to guarantee itself quality fields in the tournaments it sponsors by aligning itself with key players.
Can McIlroy sustain the torrid play in the U.S. Open, which is arguably the hardest tournament to win because of the way the course is set up, notably the slick greens? It's a completely different tournament, one that requires a totally different mindset.
Kuchar may have had the right strategy by not squeezing the lemon, so to speak, in the Canadian Open and saving something for the U.S. Open. Then again, a win can never be diminished, especially for a player such as McIlroy, who plays on emotion.
He received a warm welcome from the energetic crowds at the Canadian Open, who really embraced seeing one of the game's marquee players up close for the first time. And the way in which he won was a treat for all the people who were there. It was a great coup getting McIlroy to play in the Canadian Open, but credit must also be given to the PGA Tour for changing its schedule for the 2018-19 season and placing this tournament in front of the U.S. Open as opposed to after the Open Championship.