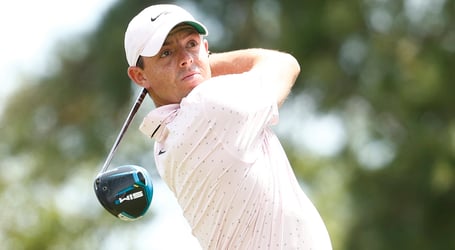 They say in sports the hardest thing is to reach the pinnacle of success and even harder to maintain that level, so it's great to see a star player on the PGA Tour rediscover his talent after some prolonged droughts.
We saw it last week with Rory McIlroy (TaylorMade TP5x) in the Wells Fargo Championship, continuing a recent trend with Jordan Spieth (Titleist Pro V1x) in the Texas Open and Stewart Cink (Titleist Pro V1x) in the RBC Open. He won his second tournament of the season after going winless in more than 11 years.
All three of these players are future Hall of Famers, so good on them for celebrating some long-awaited wins.
McIlroy's continuous errant tee shots became a familiar pattern in his struggles this season, forcing him to rely on his iron shots. But he never gave up through the trying times while also having to adapt to fatherhood with the birth of his first child, a girl he and his wife named Poppy Kennedy, last September. That's not to say he is any different than any first-time father, but the demands and pressures he had to overcome dealing with a slump added an element to his life that had already significantly changed. No one ever doubted his ability, but he had to put in the time with a new swing coach to reclaim the talent that made him one of the sport's all-time greats. It is interesting how he has changed his putting routine, lining up his putt without doing any practice strokes.
And it was great to hear the fans respond with their "Rory, Rory" cheers. McIlroy has been a great ambassador for the game. Coincidentally, the week began with McIlroy staunchly defending the PGA Tour as talk of the Golf Super League surfaced again. Any league of any kind that hopes to put a dent in an existing league – think United States Football League and World Hockey Association as two examples – needs major stars to make a statement and that does not ensure success. Perhaps it was justice that McIlroy prevailed as a stamp of his support for the PGA Tour, which gave him the platform to become a star and someone whose voice carries a lot of weight.
MY MICKELSON FOLLOWUP: So last week I reported that I was a member of a Phil Mickelson (Callaway Chrome Soft X) Facebook group. My post generated a lot of interest and a lot of views, and when Lefty led after the first round of the Wells Fargo with a seven-under par it was exciting for the "Phil Pfans." Unfortunately, Phil faded going 14-over par in the next three rounds and finishing seven-over par. It was fun while it lasted.
MISSED IT BY THAT MUCH: Before the tournament began, I asked my wife, Jane, to help me with my selections for the weekly PG Golf pool. I originally picked Patrick Reed (Titleist Pro V1) and Max Homa (Titleist Pro V1) for my two selections. But I was also looking at Abraham Ancer (Titleist Pro V1x). Jane suggested I go with Reed and Ancer. I woke up at about 3 a.m. on the day of the first day of the tournament and deleted Homa and chose Ancer. He ended up losing by one stroke to McIlroy, who took a two-shot lead going into the final hole and made things interesting when he had to take a drop shot when his drive landed in a penalty area in the rough near the creek. He pulled out an iron and it landed on the green 200 yards away, leaving him with a long putt, which he bogeyed to win. It could have been a double bogey and a playoff with Ancer without that great iron shot. Homa failed to make the cut. Reed tied for sixth.
Nice one, Jane.
THIS WEEK'S PICKS: You are only allowed to pick a player a maximum amount of two times in the competition. I've already picked Bryson DeChambeau (Bridgestone Tour B X) and Jon Rahm (Callaway Chrome Soft X) twice. I wouldn't be surprised if either wins the Byron Nelson this week, but I might have to wait until 3 a.m. on Thursday to decide on my two selections.