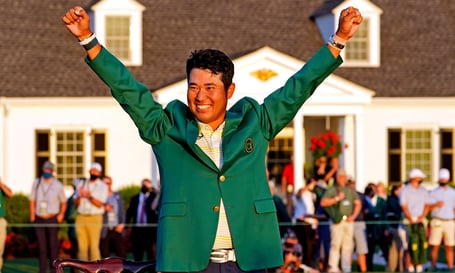 The golf ball world is ruled by Titleist, TaylorMade, Callaway and Bridgestone. The one company that doesn't receive much attention is Srixon.
The victory by Hideki Matsuyama (Srixon Z-Star XV) in the Masters will change that. Srixon lauded it on its website with the headline A MAJOR MOMENT FOR MATSUYAMA. It doesn't get any bigger than the Masters.
All it takes is a victory in a major for any golfer to receive notice – and for the manufacturer of the ball he or she uses to capitalize on it.
It happened with Tiger Woods (Bridgestone Tour B XS) when he switched to Bridgestone after Nike stopped manufacturing golf clubs and balls. Tiger's success pushed the Bridgestone brand. Other golfers pushed it even higher, including Bryson DeChambeau (Bridgestone Tour B X).
TaylorMade has a slew of top pros pushing their brand, as does Callaway. Titleist is the number one brand among the PGA Tour and LPGA Tour and nothing will change that any time soon.
So then there's Srixon, which counts Matsuyama as its leading "staffer," along with Shane Lowry, Keegan Bradley, J.B. Holmes, Russell Knox, Graeme McDowell, Smylie Kaufman, Harold Varner III and William McGirt, to name a few on the PGA Tour. Inbee Park, Hyo-Joo Kim, Ingee Chun, Miki Miyazato, Minjee Lee and Sakura Yokomine play the brand ball on the LPGA circuit. There's a slew on the Champions Tour such as Jerry Kelly, Steve Pate, Peter Jacobsen, Larry Mize, Steve Flesch and Gary Koch, among others.
Matsuyama joined Bradley, who won the PGA Championship in 2011, as a major winner.
Park has won the LPGA career Grand Slam.
Matsuyama had always been a significant presence on the PGA Tour winning numerous events, but he always seemed to be just a cut below the premium players. Now that is not the case.
You wonder if at the end of the year there is an announcement that some high-profile PGA player has switched to Srixon, which also manufactures clubs.
You have to believe Matsuyama's win could push overall sales of Srixon's balls and clubs to unfathomable limits worldwide.
CLOSING THOUGHTS ON THE MASTERS: Yes, I was pumping DeChambeau and I am not jumping off the bandwagon. Clearly he has not figured out Augusta National, but he is young. It seems to me, however, that some members of the TV networks take great pleasure in watching him fail. I count Nick Faldo at the top of the list, then again he has done enough in his career to merit criticizing others…With so many top-ranked players in the world failing to make the cut in the Masters, this could be an interesting year in terms of the year-end rankings…Did Brooks Koepka (Titleist Pro V1x) do the wise thing and try to play in the Masters three weeks after knee surgery? I wonder why he felt the need to push things, but he's never lacked confidence...I wanted Jordan Spieth (Titleist Pro V1x) to do well and he did, finishing tied for third at seven-under par. For him to win the Masters a week after his win in the Valero Texas Open would have been too much, in my opinion, mentally, physically and emotionally. He has played a lot of golf this year already. He played amazingly well in the Masters, including making some shots that only he can do. I expect he'll enjoy some rest and savor what he's done to come back this year following more than three years without a win on the PGA Tour. I wouldn't be surprised if another major is in his forecast in the near future…Xander Schauffele (Callaway Chrome Soft X) is my favorite player, if you don't know it by now reading my blogs. I think the Xand Man got really unlucky on the 16th hole when he was trailing Matsuyama by two strokes and his tee shot found the water and he ended up with a triple bogey. I think he will win a major at some point, but what he needs most of all is a win in any tournament…No matter how many times I see Ian Poulter (Titleist Pro V1x), I get a kick out of his plaid pants. The TV commercials with Poulter are hilarious…Jon Rahm (Callaway Chrome Soft X) had an amazing round on the final day of the tournament, posting a six-under score and finishing at six-under par, which tied him for fifth. Combined with the birth of his daughter seven days before, it was a week Rahm will never forget. What a great story!