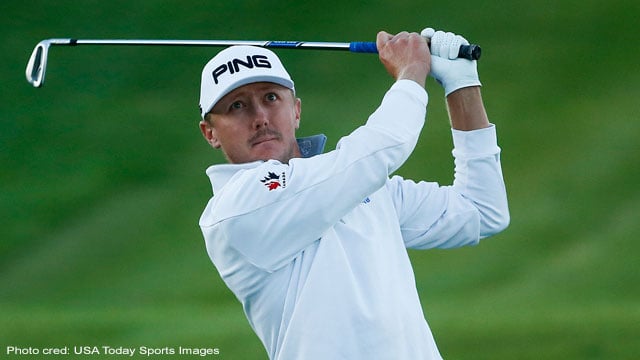 For many years, Canada has been waiting for the next Mike Weir, who won the Masters back in 2003 and became one of the top players in the world for a few years until injuries took their toll.
Some such as David Hearn, Graham DeLaet, Nick Taylor, Brad Fritsch and Adam Hadwin have come forward to make their presences felt as the next great Canadian on the PGA Tour, while amateur Jared du Toit had a good run in the 2016 Canadian Open, but none have been able to capture the imagination and optimism of rookie Mackenzie Hughes.
A week ago, Hughes, who has only been a pro for four years and only recently received his PGA Tour card, scored a wire-to-wire victory – the first by a PGA rookie in 20 years – at the RSM Classic golf tournament in St. Simons Island, Georgia.
Talk about pressure: the final round, which went into a playoff, had to be suspended because of darkness and resumed Monday.
If that doesn't test the nerves of a rookie, nothing will. He had to beat three others to win the tournament. He did it with an 18-foot putt, then had to wait for the other three to putt. All missed.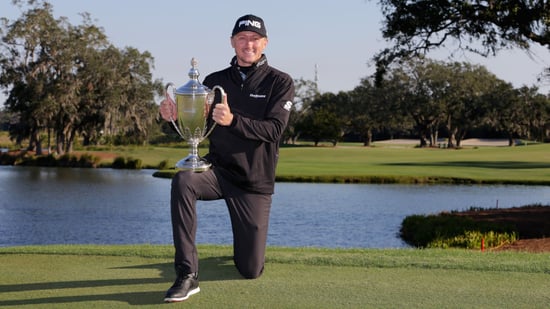 Photo cred: http://www.skysports.com/
The 25-year-old Dundas, Ontario native has only had his PGA card since August when he won the Price Cutter Charity Championship on the Web.com Tour. He has played in only a handful of PGA tournaments.
"Years ago I was trying to figure out professional golf on the Mackenzie PGA Tour Canada and to climb through the ranks the way that I have hasn't been easy," he said on a media conference call the next day. "There's been some downs along the way. My first year on the Web.com Tour was very eye-opening. I learned a lot that year more than I ever have in any professional year I've ever had. It taught me a lot, showed me a lot about myself. I wasn't down and out after that year, I just needed to do some things differently and get back to what I had done well in the past.
"To climb back from that hole and back here to the PGA Tour now and sitting here with my first PGA Tour win has been quite a journey, one that I'm really proud of. I'm humbled and really at a loss for words as to what it means."
"You never know what's going to happen being a rookie on the PGA Tour. Often times, the hardest part about getting on the PGA Tour is keeping your card for the first time and extending your stay. To have that secured and locked up for the next two years is such a tremendous weight off my shoulders. Not only that, but to set my schedule and know where and when I'm going to play...you just can't buy that freedom and security. It's going to be super nice being able to play golf with a little bit less on my mind. I'll have that job security for the next couple years."
Hughes began the RSM tournament with an opening-round 61 and was solid all the way through, finishing 17-under par.
And how's this for a storybook finish? He and his fiancé were recently married. The $1.08 million he received for winning will help cover expenses from their trip and then some.
But he is sure to be in line for some bigger paydays and payoffs. His victory gives him a two-year exemption on the PGA Tour and an automatic invitation to this year's Masters.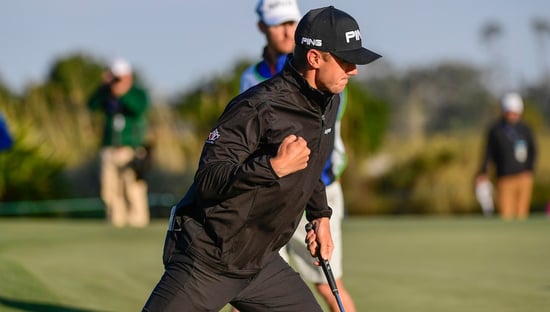 Photo cred: http://www.golfwrx.com/
"It just struck me right away (after the win) I'm going to the Masters. I was just beside myself thinking about Magnolia Lane and all the things that go along with the Masters and the aura of that tournament. I've watched that tournament every year since I've been playing golf. It's like a religious thing watching every shot that's played in the Masters and I'm now going to be one of those guys playing in the Masters. It's just the coolest thing in the world knowing I'm going to the Masters.
"It's certainly been a pretty big rise from where I was midsummer to where I am now, but this is by no means something I didn't think I could do. It wasn't like I thought I could never play on the PGA Tour. I could never win on the PGA Tour. I always believed I could do it. No matter what people thought around me, it didn't really matter. If people thought I couldn't do it, it only fueled me more. To be where I am now is sooner than what I expected maybe, but it wasn't beyond what I thought I could do. To be on the PGA Tour now it feels like where I should be and where I belong."
"It's all part of the journey. There is no straight line to the top. The way I've always looked at success and climbing the ladder, there's going to be valleys and holes in the road and you're going to fall down sometimes, but if you can climb out of those holes and get back up, you're stronger for it. The times I got knocked down early in my career only made me stronger and more prepared to face what I am dealing now."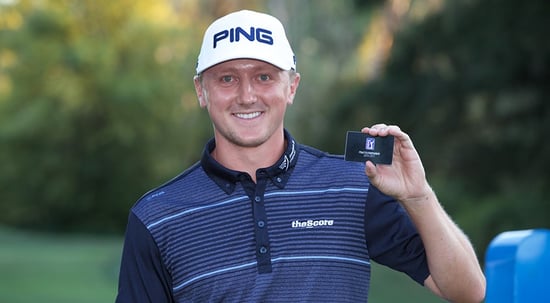 Photo cred: http://www.pgatour.com/
Golf is huge in Canada, largely because of Weir and the fact he raised the profile of the sport. Weir's ascension came during a monumental period in golf – Tiger Woods' rise as one of the most dominant players of all-time. The game received more attention because of increased television ratings and sponsorships.
Canada has longed for someone of Weir's ilk to follow him in his footsteps. Because there are so few players on the PGA Tour from Canada purely based on a per capita basis, it is expecting a lot for someone to become a superstar. Weir did it. Hughes can now be classified as a star on the rise, perhaps Canada's best prospect in years to win a Major, but time will tell.
For the time being, Canada can bask in the glow of seeing a raw rookie do something special, one of the most significant achievements for the country in the game of golf in a long, long time.