For the first time in LostGolfBalls history the Fantasy Masters Draft wasn't held in a closed room with pencil and paper. This year the draft was going to be different, challenging, and an exciting experience we could share with all of our fans.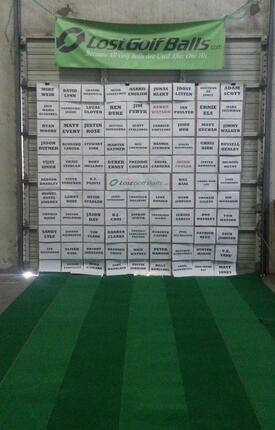 We set out to make the the Masters draft an event that could challenge the Masters itself in excitement and thrill. We created the first of it's kind (as far as we know) Fantasy Masters Chip N'Draft Wall!
This is how we did it:
Tape white paper with all players names on to a large 9x12' dropcloth.
Lay out some crosscut astroturf.
All 17 participants had to chip from about 20ft out using soft golf balls covered in paint.
Use a golf club to hit the name of your choice. Those who were not so good at golf chose to throw the ball.
3 rounds to select the 3 best players to win the Masters.
Prepare your game for the Masters with the LostGolfBalls.com Masters Bundles!
Check out the video from our Chip N'Draft below!
Current Leaderboard
Updated after every round.