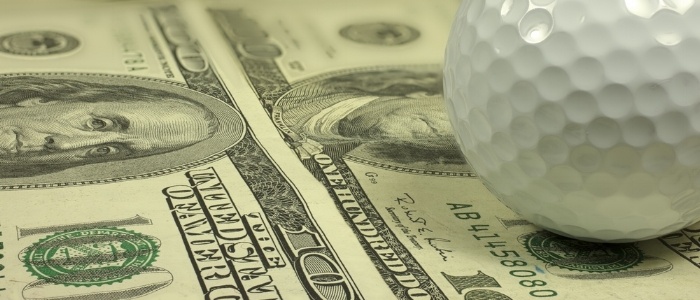 Did you know that golf is one of the country's most popular sports? Every year more than 24 million Americans play 455 million-plus rounds of golf. That equates to roughly 20 rounds per golfer annually.
Did you also know that golfers lose more than two golf balls per round on average? It's ok to admit; we've all been there waiving sadly as our golf ball takes a hard right turn and splashes down in the pond just off the 18th green.
Losing a golf ball can be an emotional experience. You may have had your first birdie with that golf ball. You might have used it to shoot your best round ever. Heck, people even frame their hole-in-one golf balls if they don't lose it first.

Losing a golf ball can also be an expensive experience. Premium golf balls nowadays cost more than $40 a dozen. Doing some simple math: at two lost golf balls per round (and that's on a good day) in 25 rounds per year, that's more than 50 golf balls that need replacing. In total, you're looking at spending $160 a year (at a minimum) on new golf balls; no wonder the golf ball industry is a $700 million (and growing) business.
LostGolfBalls is here to help you go green, save some green and hit the green. Here's an example:
A new box of Titleist Pro V1s will set you back $48 (that's $4 a ball). A dozen "AAAA" quality Pro V1s from LostGolfBalls is less than half at $20. If you replace all your lost golf balls with off-the-shelf Pro V1s, you're looking at $200 ($4 per ball x 50 balls) this year. Replenish your ammo supply with LostGolfBalls' Pro V1s and that cost drastically drops to $83 ($1.60 per ball x 50 balls). That's a savings of $117 and easy math that will leave your playing partners green with envy.
To help you celebrate the savings, the team here at LostGolfBalls has put together a list of 10 things to spend all that extra cash on:
A new Titleist Vokey SM5 wedge
24 $5 foot longs from Subway
Almost half of a tee time at THE PLAYERS Stadium course at TPC Sawgrass
Six-dozen more golf balls from LostGolfBalls
A 24-inch, LED TV
iPod Nano
One-way ticket to Las Vegas (where you can win more money to pay for your flight back!)
26 12-packs of AriZona's Arnold Palmer drink (so delicious)
25,200 M&M's
Tell us what you would spend the extra money on in the comment section below; we'd love to hear from you!