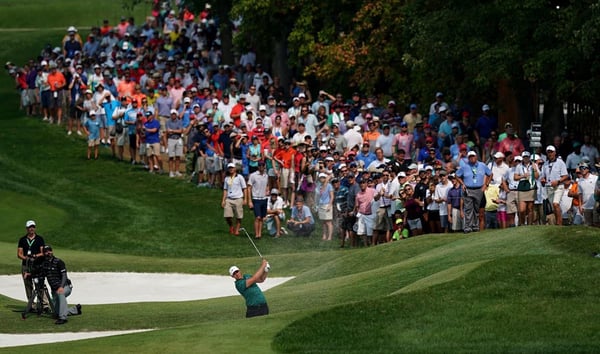 Image Source: Robert Cohen
With all due respect to Jack Nicklaus, I don't agree with his idea of rolling back the distance of the golf ball because of long drives.
Nicklaus thinks today's golfers are driving the ball so far, they could potentially reach a green that is 350 yards or more from the tee. In some cases, it has exceeded 400 yards.
Bryson DeChambeau (Bridgestone Tour B XS) hit a drive 423 yards last week at the Memorial Tournament, which depending on your perspective is either good for the game or bad. Look, fans and TV networks love to see long drives. Because of that, the World Long Drive competition was created in 1976 and it has increased in popularity with TV coverage of the tour events and the final.
Go back to the days of John Daly (Titleist Pro V1) when he was mashing the ball like no one else with his "grip it and rip it" approach. He made a living off of it with exhibitions in which he was paid an appearance fee just to hit the ball as far as possible. In 2005, in one of the crazier things in Daly's career, he attempted to drive a ball from the Canadian side of Niagara Falls to the American side, which is 344 yards. He came up short, blaming the mist. In 2019, Maurice Allen (Volvik), the 2018 World Long Ball Champion, tried the Niagara Falls challenge and launched one 426 yards, including 393 yards in the air, easily landing on the other side of the border.
Nowadays you have the likes of Rory McIlroy (TaylorMade TP5x), Dustin Johnston (TaylorMade TP5x), Jon Rahm (TaylorMade TP5), Cameron Champ (Srixon Z-Star XV) and others who can easily drive the ball 340 yards and more. Johnson has the longest-recorded drive since 2010 when he blasted one 463 yards in the final round of the 2011 Deutsche Bank Championship.
Tiger Woods (Bridgestone Tour B XS) used to be capable of easily driving it 340 yards, but nowadays is playing more cautiously off the tee, electing in some cases to use an iron instead of a driver to keep the ball in the fairway.
The bottom line is, it doesn't matter how far a PGA player drives the ball unless he has a good short game and is strong with the putter. It is interesting how a PGA player can rocket a drive, but can't make short- to medium-range putts, either because the greens are slick and they misjudge the speed or they don't read the break properly. Ultimately, the long-ball hitters on the PGA Tour need to keep their drives in the fairway.
There are so many factors when it comes to why balls are travelling so far now. A combination of changes in equipment technology are the primary factor, including balls. But you also have to include the fact more and more PGA players are taking greater care of their bodies with strength and conditioning exercises and diet. The rotund John Dalys of the world on the PGA Tour are becoming fewer and fewer.
Graduates from U.S. universities and colleges with top programs are so much better nowadays. They are competitive with seasoned tour veterans as early as a year or two since leaving their university/college programs. Consider Matthew Wolff (TaylorMade TP5) as an example. He is currently sixth on the PGA Tour with an average distance of 312.8. DeChambeau leads with 323.8, followed by Champ at 321.7. Brooks Koepka (Titleist Pro V1x) was among the best until knee injuries affected his game. He is currently 19th overall at 307.3
It's a totally different sport from when Jack played. That said, Nicklaus wants to make the Memorial Tournament tougher each year with changes to the course and pin placements. That's the easiest way to make golfers think before they pull out the driver and hope to hit it far and straight.
All of which means is the old age that driving is for show and putting is for dough will always be the formula for success. A driver may be used 15 times in a round. Having a solid iron game is more important.