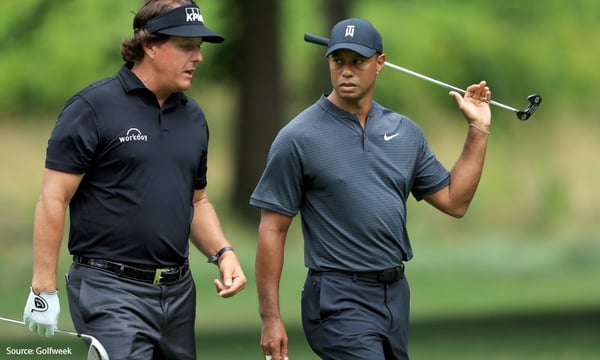 So what did we learn from The Match with Tiger Woods (Bridgestone Tour B XS) and Phil Mickelson (Callaway Chrome Soft X)? Well, the two can put on a show.
The battle that was produced in near darkness in Las Vegas made for some interesting viewing, particularly because it ended with four extra holes when 18 couldn't decide a finish.
Beyond just the fact Tiger made an incredible chip shot on the 17th hole that was straight out of his shot making from the past, this was really all about putting. Tiger struggled at times, which more than just his errant tee shots, became a source of frustration for many tournaments in his incredible comeback. It all came together when he needed it most in the Tour Championship.
As for Phil, I was pleasantly surprised at how well he played. It was like how he started off the 2017-18 season more than how he finished.
He was the initiator of this event and the fact that he played the course several times leading up to the actual tournament was evidence that he did not want to embarrass himself. He said he was going to win and he did. He tried to engage in pleasantries with Tiger, but that's just not Woods' style. Maybe Tiger is just locked into himself as a competitor that he did not want to engage in chit-chat with Phil, whose personality is more akin to that.
If this had been a tournament way back when Lee Trevino and Arnold Palmer were playing, you can be sure it would have been far more entertaining with the barbs and digs between the two.
I really don't believe the $9 million made either player try any harder. Honestly, Tiger and Phil don't need the money. The sponsorship dollars they have accrued and will continue to accrue will keep them financially comfortable.
What was particularly fascinating for me was watching the commentary which was so unlike what occurs on the traditional golf television networks. This was designed to be entertaining with colorful characters such as Charles Barkley.
The other interesting aspect was all the talk about odds with virtually each shot. Sports betting has become a huge business, and if golf embraces this it could have a big impact. There is already betting on all the tournaments, but it is not part of the telecasts. Personally, I think it should, at least insofar as saying how Vegas views each tournament with the early odds and advanced wagering. That might seem radical because you don't have odds quoted in sports broadcasting, but the way people watch and partake in sports gambling is part of a new frontier.
When Phil told Tiger he didn't have to make a putt which was not a slam-dunk because he didn't want to win that way, it might have driven bettors crazy. Again, this isn't what would happen in a real tournament, but if you bet on Phil it might have irked you because theoretically it might have given Tiger a break to win.
I don't know whether this event can ever be duplicated because it may have been a one-off thing, but it sure was interesting and charities benefited so that was the main thing.
It all dovetailed nicely into this week's Hero World Challenge, supporting Tiger's foundation, at the Albany Golf Course in the Bahamas. At this time last year we saw some indication that Tiger could play four full rounds, granted all the players in the tournament qualify for the four rounds because there is no cut after 36 holes, but it was important to see if Tiger could be competitive. The Hero World Challenge is fun more than anything, but at least it involves some of the best active players in the game and there is purse money on the line.
This year's event started off Thursday with six of the top 10 players in the world. What I'll be curious to see is how Dustin Johnson (TaylorMade TP5x) plays, not only in this tournament but the entire 2018-19 season. He became the top-ranked played in the world last season, but he couldn't hold on to it. In retrospect, I wonder if the U.S. Open played a factor. Like many players in it, he struggled with the slick greens. I know he won in the 2017-18 season, but he wasn't dominant. Who knows if he will be able to duplicate the form he had prior to suffering the household accident the night before the 2017 Masters, which affected him mentally and physically and took several months to overcome.
Jordan Spieth (Titleist Pro V1x) also had a year that didn't go his way. He's not in this week's tournament. Golf fans will be watching with interest to see how recovers from his most frustrating season since turning professional.
I will also be interested in seeing if Hideki Matsuyama(Srixon Z-Star XV) bounces back, along with Jon Rahm (TaylorMade TP5x). Both are relatively young. They didn't disgrace themselves last year, but I believe they didn't play to their true capabilities.
And what of Bryson DeChambeau (Bridgestone Tour B X)? What an incredible year he had. Now it's a question of whether he can keep that going or falls victim to the same struggles that affected Matsuyama and Rahm.
I also think of Brooks Koepka (Titleist Pro V1x) and how he will do if he is able to play an entire year without any injuries. His talent is enormous.
Collectively, the new season will really commence in early January.
I wonder if we will see if there are any major changes in terms of players switching allegiances with the brand of golf ball they use. Bridgestone has made some serious inroads because of Tiger.