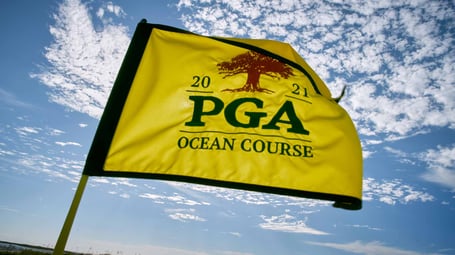 Oops, he's doing it again!
Phil Mickelson (Callaway Chrome Soft X) is very much in contention going into the weekend at five-under par in the PGA Championship that is bringing the best players to their knees. He finished his second round in first place after recording a three-under par. It was only a few weeks ago at the Wells Fargo tournament that Lefty had the lead after the opening round shooting a seven-under par 64. Well, he finished at seven-over par, shooting 14-over par in the final three rounds.
But, hey, if you are a fan of Phil, you don't jump off the bandwagon. And if you recall, I wrote a few weeks ago that I'm part of a Phil Mickelson Facebook Fan Club. And we're all giddy again.
You see, it's not about what he does from week to week, but what the soon-to-be 51-year-old has done collectively in his career. It is the sum of the parts, not one single thing. He won the PGA Championship in 2005, and 16 years later he's still battling. What does that say about his competitiveness and commitment?
Last week there was a story about the United States Golf Association granting Mickelson a special invitation to play at this year's U.S. Open at Torrey Pines in San Diego, June 17-20. It means the San Diego native will be playing in his home town in the one tournament that has eluded him in his quest for personal grand slam. A runnerup six times, Mickelson will be the sentimental favorite to win the tournament, although what happens this weekend could make the invitation moot. With a solid finish, he'll climb up the Official World Golf Ranking in which he is currently 115th. He needs to crack the top-60 no later than June 7 to earn a chance to play without an exemption. You'd have to think he would rather do it on merit.
What I found interesting is Mickelson accepting the invite given that he has been philosophically at odds for quite some time with the USGA because of the way it designs the U.S. Open, which he says often requires the players to do trick shots on the speedy greens.
But back to the PGA Championship: Whatever happens this week, the Phil Fans will salute him.
Do I think Phil will win it? Who knows? As they say, there is plenty of golf to be played and the pin placements and the wind should affect the outcome.
One thing is for sure: The guy with the ancient flat stick, the sunglasses, the chewing gum and the Workday golf shirt is rocking it!
And hopefully there's some commercials during the broadcast of Phil giving advice to a guy buried in a bunker. Is that funny or what?
One either sidenote: when I was growing people called me Lefty. In my 20s when I began writing professionally, some people called me Lefty. I even have one friend who still does it. I think that's kind of grade school, to be honest.
But if Lefty wins, I'm telling everyone they can call me that again.
One more Phil item: I run a fun golf pool and there are more than 40 entries for the PGA Championship. You pick four players and the foursome that collectively makes the most money wins. Not one person selected Mickelson.
WHAT WAS I THINKING: I thought Jordan Spieth (Titleist Pro V1x) was a lock. He'll make the cut, but it's going to take a miracle to win.
SPELL CHECK TIME: If South Africa's Christiaan Bezuidenhout (Titleist Pro V1) wins – he's currently in the mix at three-under par – there are going to be a lot of golf writers struggling to write his first and last names.
BIG NAMES BOW OUT: This might go down as one of the craziest and toughest majors in some time. Who would have thought the likes of Dustin Johnson (TaylorMade TP5x), Sergio Garcia (TaylorMade TP5x), Max Homa (Titleist Pro V1), Tommy Fleetwood (TaylorMade TP5x) and Cameron Champ (Srixon Z-Star XV) would have been sent packing?
What's interesting is Garcia switched to TaylorMade ahead of the tournament. He had been with TaylorMade for 15 years before switching to Callaway in January, 2018. He had been a "free agent" since January, 2020, saying he terminated the deal with Callaway because "it wasn't the deal we thought."
Garcia announced the return to TaylorMade on Tuesday, two days before the PGA Championship began.
"I've always been comfortable with their team, their approach to the game and their equipment, especially their TP5x golf ball. Happy to be back."
OH CANADA: As a native of Canada, I was rooting for Corey Conners (Titleist Pro V1) after he led following the first round of the tournament at five-under, two ahead of the field. He stumbled on Friday with a three-over par, but is still in contention.