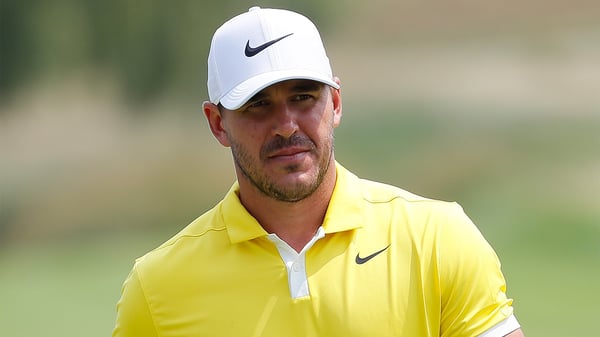 Image Source: Getty Images
The more I read about Brooks Koepka (Titleist Pro V1x), the more I think about Tiger Woods (Bridgestone Tour B XS), in particular knee injuries.
Koepka will not be participating in the 2019 Presidents Cup because he is bothered by the same knee injury that he had operated on in August after the Tour Championship and which he further aggravated slipping on wet concrete at the C.J. Cup in September.
Ricky Fowler (Titleist Pro V1) will take Koepka's place.
Koepka's rise from relative obscurity to superstar has been reflected in incredible results, notably four wins in the majors since 2017. He needs only to win the Masters and The Open Championship to complete the sweep, but that's not an easy task at the best of times because anything can happen to derail that, physical health being a huge issue.
The irony is that Woods seems to have overcome his physical issues and appears closer to tying Jack Nicklaus' record of 18 majors than anyone could have imagined after all the knee and back woes he endured that made it difficult for him to simply walk. Woods endured and will be the playing captain of the Presidents Cup, December 9-15 in Melbourne, Australia.
Koepka has been a polarizing figure since he started to take his place on the world stage of the best active players on the PGA Tour. His seemingly indifference to non-major tournaments has contributed to the way he is viewed, but you can't argue with the results. He should have been voted the No. 1 PGA Tour player this year instead of Rory McIlroy (TaylorMade TP5x), but that's a debate that will never be completely rationalized, although it was the players that voted. Was it a popularity contest as opposed to a performance contest? Who knows?
Koepka has had wrist issues that he has battled and has overcome, but the lingering knee problems are of much concern looking at it objectively. Whether it's the sheer power and torque off of the tee that has contributed to his knee problems is something only he and his team can answer. It eventually caught up to Woods, whose distance off the tee gave him an advantage during his prime, along with his pinpoint accuracy with his irons and putting. He was the complete package until his body belied him. But Woods re-invented himself and it's one of the best stories of perseverance in modern sports history. Few athletes in any of the major sports have been able to do what Woods did – decline to what appeared to be retirement and then recover and rebound to elite status again. Once these athletes have been the best it is hard for them to accept being merely average.
Koepka is only 29 and should be in the prime of his career, but if he's becoming bothered by repeated knee problems it could set him back, depending on the severity of it. If it involves ligaments it is considerably more problematic than cartilage and would require the kind of surgery that could take nine months to recover. But again, this is something that only he and his team fully understand. It's not the type of news that he or they need to share with the public.
Woods is 43 and knows his body and what works for him far better now than earlier in his career. He is essentially his own coach and manager, deciding his training, practice and playing schedule. That came with the benefit of time and understanding what works best for him.
Koepka had already been working on his schedule of what worked for him, but he works with a coach. The difference between individual sports as opposed to team sports is that they are totally reliant on their own results as opposed to having others fill in for them on a need-be basis. Fowler is replacing him for only this tournament, which realistically is more about playing for your country or, in the case of the Europeans, representing the world. It will be fun and entertaining, but at the end of the day it has nothing to do with the day-to-day events of the PGA Tour.
But for this tournament, similar to the ZOZO Championship that Woods won in October to make him a participant in the Presidents Cup in addition to be the U.S. captain, Koepka will be missed.
Anyone who follows the game can only hope he is fit and healthy by the time of the Masters next April and beyond.