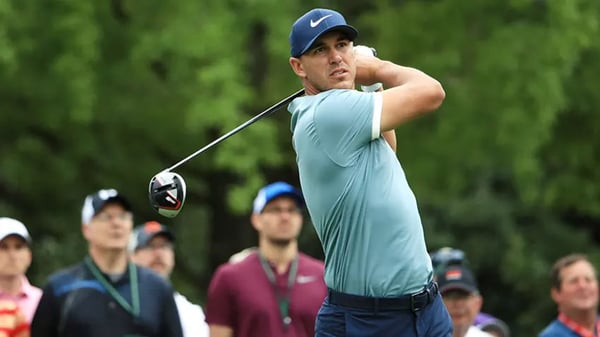 Image Source: PGA Tour
If nothing else, Brooks Koepka (Titleist Pro V1x) is not dull.

Earlier in the week before teeing off Thursday in the first round of the Shriners Hospital For Children Open In Las Vegas, his first tournament of the 2019-20 season, Koepka admitted he couldn't practice last year because of a partially torn patella tendon in his left knee.
And all along there was the suggestion, which he created, that Koepka didn't need to practice; that he was that good. It was the kind of off-the-cuff admission that seemed to suggest he was that much better than any other member of the PGA Tour.
Following his historic win in the Masters back in April, Tiger Woods (Bridgestone Tour B XS) had to limit his practice schedule the rest of the season because of his on-going knee issues.
In August, he underwent a procedure on his left knee, the fifth time he had undergone surgery on that knee. A month later he was fully cleared to practice. He is scheduled to play his first tournament of the 2019-20 season in the Zozo Championship in Japan later this month.
Woods told an amusing story this year prior to The Open that Koepka passed on a request to practice with him. Perhaps the reason was Koepka wasn't practicing in general because of his wonky knee.
The funny thing is if Koepka had a terrible 2018-19 season, the injury could have been an excuse, but he won three of 21 tournaments, notably repeating in the PGA Championship, to increase his career major victories total to four, while also finishing second in the U.S. Open, tying for second in the Masters and Honda Classic, tying for third in the Tour Championship and tying for fourth in the Open Championship.
Overall, he had seven top three finishes, nine top-10 and missed only one cut.
If he was 100% healthy, how good could he have been?
I'll never understand how the PGA Tour members voted Rory McIlroy (TaylorMade TP5x) as player of the year over Koepka. Granted, McIlroy had a good year, highlighted by his victory in the Tour Championship. Overall, he has three wins and one second, 14 top-10 finishes and made the cut in 17 of 19 tournaments. Those stats don't measure up to Koepka, specifically in the four majors.
So if Koepka is fully healthy this year, there's no telling how good he will be?