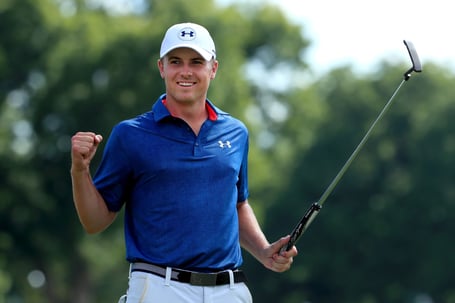 Image Source: Golf Digest
I don't know much about the Texas two-step, but I do know Jordan Spieth (Titleist Pro V1x) is back in step.
His victory in the 2021 Valero Texas Open was not necessarily a surprise – he has been trending well this year in tournaments and this was clearly a field he could beat if he was on his game – proved that he still has it.
Since that crazy win in the 2017 Open – the 13th hole will go down as one of the most amazing scrambling jobs in recent history – he had gone 83 starts stretching over 1,351 days without a win. It had been painful to see for a player who had risen up the ranks quickly in his 20s and just as quickly took a dramatic tumble, much of it because of errant drives.
He was on his game in the final round of the Texas Open, doing all the right things, including rising to the pressure in all aspects, while holding off a determined Charley Hoffman (Titleist Pro V1x), who refused to yield after shooting an opening round of three-over par. He lost by only two strokes.
But back to Spieth. Is there anyone on the tour who display as much emotion with his good shots and his bad shots more than Spieth? He is fun to watch, but it was painful to see him stumble so badly the last few years.
Much has been made of a hand injury that contributed to his problems. He had bone chip in his left hand in early 2018 and elected to play through it rather than undergo surgery. He opened up about it recently, which explained how and why his game dropped off so precipitously. His overall game was thrown off by it because instead of playing by feel, he had to manufacture his game to compensate for the injury. Through it all, he stuck with his team.
And now he is back.
And he's only 27.
It seemed like he was so much older, and maybe that's because he won at such a young age. If he plays with the same consistency going forward, he could easily climb back to where he was among the top players in the world.
If Spieth can do it, you look at Rory McIlroy (TaylorMade TP5) and Rickie Fowler (TaylorMade TP5x) and wonder if they can regain their games. The saddest thing is seeing someone of greatness lose the skills that made them so effective.
Heading into the Masters this week, it will be interesting to see how Spieth does. He won it back in 2015 when he also won the U.S. Open and placed second in the PGA Championship. The big question is, did he peak in the Texas Open and will he be able to crank it up again in the Masters? Logic would suggest the mental, physical and emotional zenith he reached will make it hard to take it one step higher. Specifically, did the overall grind it took to win last week deplete him of the reserve he needs in Augusta? The best players on the tour have taken time off to be ready for the Masters. The advantage Spieth has is that he knows the course and understands all the pressure of playing in this important tournament.
Whatever happens this week, Spieth is back.