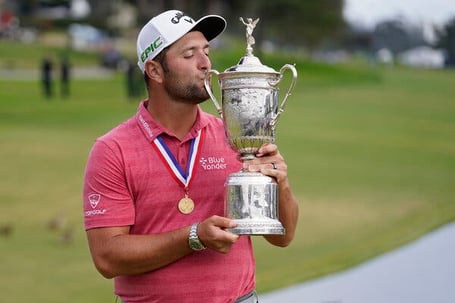 What is it about the golfing gods? They can be both cruel and kind.
If ever there was proof of this it happened in the U.S. Open, won by Jon Rahm (Callaway Chrome Soft X), 15 days after he was disqualified from a sure victory in the Memorial Tournament when officials told him he tested positive for COVID. The 26-year-old took a philosophical attitude toward the DQ, choosing to accept his fate rather than becoming irate. Rahm is known for his fiery temper on the golf course, but he exemplified maturity when handed the Memorial news and perhaps his reward was winning the U.S. Open, by far a more important victory because it's a major.
"After what happened a couple weeks ago, I stayed really positive knowing big things were coming," he said afterward. "I didn't know what it was going to be, but I knew we were coming to a special place."
Rahm became engaged to his wife, Kelley, at Torrey Pines, which is in La Jolla, California, near San Diego.
"It's been my favorite city for a long time," he said. "It was my wife's favorite city before we ever met."
Some 2½ months after he and Kelley celebrated the birth of their first child, a boy they named Kepa, they collectively shared in a special moment. For Rahm, it's all about perspective. Being a father is far more important to anything that happens to him on the golf course.
Maybe some day what happened in the last 10 weeks will be made into a movie. The drama is built in – filled with highs and lows and a story concurrent with the disease that has shaken the world to its very foundation.
Contrast that to 38-year-old Louis Oosthuizen (Titleist Pro V1), who played spectacular golf for all about one shot, which cost him a win or at best a tie. His drive on the 17th hole landed out of bounds and he took a one-shot penalty and made a great shot to land on the green, but bogeyed the putt. He then needed an eagle on the par-5, 18th hole, but came up far shot. He composed himself and managed a birdie. Hardly a disgrace.
"I feel like I had my shots," Oosthuizen said. "I went for it and that's what you have to do to win majors. Sometimes it doesn't go your way and other times it does."
It was his sixth runnerup finish in a major. Who knows if he will be in a similar situation again?
Phil Mickelson (Callaway Chrome Soft X), bidding for his first U.S. Open after six runnerups, made the cut at three-over par, but blew up on the final 36 holes and finished at 11-over par. Mickelson needs a U.S. Open win to complete his personal grand slam, and playing in his home town in front of family and friends at Torrey Pines would have been the perfect place to do it. Alas, it was not meant to be, but sitting on a chair beside Kelley waiting for Oosthuizen to finish while Jon was in the scorer's tent with his son, Mickelson looked comfortable and relaxed. After winning the PGA Championship a month before at age 50, surely Mickelson knew that what happened on the final 36 holes in the U.S. Open could not ruin the afterglow he is feeling following his latest major when few people expected it.
Russell Henley (Titleist Pro V1x), tied for the lead going into final round, frittered it away with a five-over par.
And Mackenzie Hughes (Titleist Pro V1), starting the final round with Oosthuizen and bidding to become the first Canadian to win the U.S. Open, shot a six-over par. He had one shot hit a cart path and the ball became lodged in a tree. You can't make this stuff up.
And then there the polarizing Bryson DeChambeau (Bridgestone Tour B X), the defending champion who was tied for the lead during the final round, then absolutely came apart shooting six-over par. He shot eight-over par on the final seven holes.
And what of Richard Bland (Titleist Pro V1), the 48-year-old Englishman who had the lead at the half, then fell apart on the final 36 holes? After winning the British Masters, his first win in his 478th starts on the European Tour, he earned an invite into the U.S. Open. It was a real feel-good story until it ended in the third round when he shot six-over par and seven-over par in the final round.
I have said it before and I will say it again: sports are the ultimate reality show. The drama is not created by TV producers with story lines that are falsely portrayed to attract audiences. What happened in the U.S. Open had everything you could want from a viewer standpoint.
The right result happened at the end – Rahm was the betting favorite going in to the U.S. Open – and all the other story lines combined to make it a memorable tournament.
The U.S. Open is by far the most difficult of the four majors – in my opinion – and always has incredible finishes.
PLAYER ADVERTISING: While watching the U.S. Open with my wife, Jane, she noted the players look like walking billboards. I told her players make millions off of endorsements, much the same way professional race car drivers do. If you look at footage of some of the golfers from the 60s, 70s, 80s and even early in the 90s, they didn't wear golf caps with a sponsor logo or similar advertisements on their clothing apparel. Now it's part and parcel of the way the game has grown from a marketing perspective. I'm sure Tiger Woods (Bridgestone Tour B XS) is the catalyst.
I don't know what bonuses Rahm has in his contract from sponsors for winning a major, but I'm guessing it has to be at least $10 million.