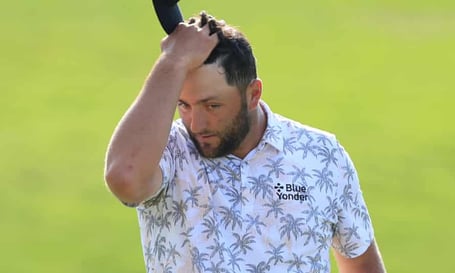 Image Source: The Guardian
I just finished watching a documentary on A&E on Bret Hart, a wrestling star in the WWE in the '90s and someone I helped to write a book, which was entitled The Best There Is, The Best There Was, The Best There Ever Will Be. It was the catch line he used in his 20-plus year career.
During the course of our many conversations, Bret talked about how some people say wrestling is fake, but in his mind it was – and is – all too real because of things that happen in and out of the ring that are not scripted. It's what he called the thin vein of reality.
After watching the documentary, which I highly recommend viewing even if you are not a wrestling fan, I thought of Jon Rahm (Callaway Chrome Soft X). What he has gone through the last eight weeks has been all too real, one filled with extreme highs and lows, something that in and of itself could make for a heartbreaking documentary – and, unlike, Bret Hart's long career, Rahm's is only just beginning.
This past weekend in the Memorial Tournament, Rahm was one of several players starting and stopping and re-starting because of rain and darkness. But ultimately he ended up withdrawing after the third round when, leading by six strokes, he had been informed he tested positive for COVID. He really didn't even have a chance to savor what he had done when informed he had become a health and safety hazard to other people – fellow golfers, caddies, tournament officials and fans – because he had the disease that could be transmitted to everyone around him. Rahm had told tournament officials before the event began he had been in close contact with someone who tested positive for COVID, but elected to remain in the competition and defend the title he won last year. Though he tested negative every day, it was determined he tested positive on Saturday morning while still playing and a subsequent test of the original sample proved it. So ultimately it couldn't have been a total surprise to Rahm, even though he was asymptomatic.
I'm not sure why the news couldn't have been imparted to him after he had signed his scorecard and announced in a statement by the PGA Tour. I could only assume that the PGA Tour has protocols in place for these types of situations. It's not the first time since COVID a player has tested positive, but nothing like this; certainly not by the player atop the leader board and seemingly unable to be caught.
Rahm had an eventful victory last year in the Memorial. He finished the tournament with a five-stroke lead when officials informed him he had incurred a two-stroke penalty because his ball had moved incrementally after placing his club down before he made an incredible chip shot for a birdie on the third-last hole.
Viewers watching the tournament had been alerted to the possibility of an infraction by CBS broadcaster Nick Faldo shortly after it happened. The tournament officials decided to wait until after the round to impart the news of the infraction rather than right there, which could have affected Rahm mentally and emotionally, so he finished with a three-stroke win. He would go on to win the BMW Championship 41 days later and ended the season finishing fourth in the Tour Championship. Overall on the season he won two of 15 tournaments, recorded a second, a third, eight top-10 finishes and 10 top-25 finishes. It was some kind of year.
The success he had on the golf course was followed up in April when and his wife, Kelley, welcomed the birth of their first child, a boy they named Kepa. On Twitter, he called it the "Greatest Day of My Life." Four days later, he played in the Masters and finished tied for fifth. Two weeks later he played in the Zurich Classic and placed seventh, then failed to make the cut in the Wells Fargo Championship. He was heckled by a spectator when he missed a putt on the 18th hole that basically sealed any chance of playing on the weekend. Rahm gave the spectator a sarcastic thumbs up, and after holing out glared at the gallery leather lung as he walked off the green. It was obvious that Rahm, who is often called a fiery Spaniard because he shows his emotions, had been ticked off. If he had decided to break his putter, grind it into the green or heave his ball it would have been understandable.
After tying for eighth in the PGA Championship, he came into the Memorial Tournament as one of the favorites. He recorded a three-under par in the first round, then carded a seven-under par in the second round – including a hole in one on the same hole as the infraction a year ago – on Saturday morning following a rain delay Friday night. A few hours later, he regrouped to play his third round and shot an eight-under par 64. He finished 18-under par, with a six-stroke lead and seemingly on his way to setting a tournament record for the lowest under-par score. It looked like there was no way anyone could beat him.
In the end no one did; it was a disease that has rocked the entire world, not just the golf world.
"I'm very disappointed in having to withdraw from the Memorial Tournament," he said in a statement posted later that day on Twitter. "This is one of those things that happens in life, one of those moments where how we respond to a setback defines us as people. I'm very thankful that my family and I are all OK."
Rahm will remain in isolation for 10 days and won't be eligible to return until the day before the U.S. Open. In the meantime, he will have to be separated from his wife and newborn child, which is truly sad.
It goes to show how life is all about "those moments," as Rahm stated, where the emotional and mental equilibrium can be as sensitive as a thermometer in rapidly-changing weather conditions. He was basically on top of the world and now he has been reminded how success can be ephemeral, that in sports and athletics being the best does not always translate to victory.
It will be interesting to see how he responds. One thing is for sure: he will have plenty of support in and out of the golf world from anyone who has seen the thin vein of reality that he has experienced in the last eight weeks.