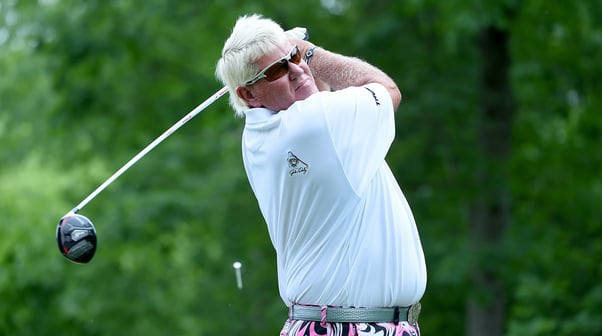 Image Source: Golf Digest
John Daly (Titleist Pro V1) is one of the biggest personalities in sports – literally and figuratively – and the news that he is battling bladder cancer is tugging at the hearts of his many fans.
Daly revealed last week on an episode of the PGA Tour Champions Learning Center that he has been diagnosed with bladder cancer and underwent a procedure last month to remove the cancer. He said doctors have told him there is an 85% chance the cancer can come back and will have to do a checkup every three months.
"Luckily for me bladder cancer is something that I don't know all the details," he said. "But it doesn't look like it may go away. We will just see what happens. Maybe there's a miracle."
He later expressed gratitude on his Twitter account to all the people who had reached out to him with messages of love.
"It's all still shocking to me but know I'll do what I have in me to beat this. My whole life I've beaten the odds, so it's NOT time to stop now. He concluded with the hashtag "gripitandripyall."
The 54-year-old is a part of golf folklore, establishing himself as a long-ball hitter way before Tiger Woods (Bridgestone Tour B XS) came on the scene 20 years ago. Now long-ball strikers are fairly common because of technology that has improved distance, combined with players being in better physical shape. That was something that was never part of Daly's makeup. He was a product of a different generation in which golfers had rotund bodies. Daly was all about teeing off and sending the ball skyrocketing, hence the phrase he created and trademarked "grip it and rip it."
As an aside, Daly is a marketing machine and has an alcoholic drink called Grip It And Sip It.
Sadly, his career never really reached full potential because of his penchant for partying. It was the thing that endeared him to fans but also cost him so much professionally and personally. That said, he still has two majors – The PGA Championship and The Open Championship – among his many achievements.
As a result of the cancer diagnosis, Daly says he has quit smoking, which is a positive change for an individual who was routinely seen with a cigarette, and limited his Diet Coke habit. So in a way, something good has come out of this.
Coinciding with all of this, Daly's 16-year-old son, John II, known as Little John, won the International Junior Golf Tour Fall Kickoff Event at Bishop's Gate Golf Academy in Howey-in-the-Hills Florida last Sunday. The Golf Channel's Brentley Romine reported that Daly Sr. learned of his son's win after playing in the Sanford International on the Champions Tour.
"That's awesome," Daly said. "I'm so proud of him. He's been playing really good, too, and it's great for him to get a win."
This is the second story of a son of a prominent golfer to win a tournament. Woods' 11-year-old son Charlie won a tournament in August in Florida.
THE ANNUAL U.S. OPEN ISSUE: I hope this year's U.S. Open, which begins Thursday at the ultra tough Winged Foot Golf Club in Mamaroneck, New York, won't be the boneyard of broken dreams again. But forgive me for being skeptical.
I say that because every year players come into this tournament with great expectations and leave with their spirits in tatters.
The United States Golf Association determined a long time ago to make the U.S. Open the equivalent of climbing Mt. Everest. I get the fact it is a major and there should by a degree of difficulty, but why make it so onerous that the players are essentially trying to save par instead of making birdies? Winged Foot is considered one of the most difficult courses in the world, according to Woods.
I simply don't get why the USGA wants to bring the golfers to their knees. Is it because the USGA wants to show that the U.S. Open is a bigger challenge than the Masters, which has so much more prestige and is always played at the same venue with basically the same course layout?
Phil Mickelson (Callaway Chrome Soft X) has repeatedly been vocal about the USGA's determination to make the tournament somewhat of a trick shot contest. He has finished second six times, the only major that has eluded him. His frustration is apparent and when Mickelson speaks, people listen. Now Mickelson will be remembered for his egregious act of defiance in the 2018 U.S. Open for hitting a moving ball after he had putted it and raced well past the hole. For that he received a two-stroke penalty because it's illegal to stop a moving ball. He received significant criticism from inside and outside the golf world. He knew what he was doing, but by the same token he wanted to make a point with his actions more than just his words.
PREDICTION FOR THE U.S. OPEN: Hard to go against Dustin Johnson (TaylorMade TP5x), but if the greens as really quick it does not play into his game. The other obvious choice is Jon Rahm (TaylorMade TP5). But I'm going with one of Patrick Reed (Titleist Pro V1), Webb Simpson (Titleist Pro V1) and Xander Schauffele (Callaway Chrome Soft X). Reed is currently 12th in putting and has been showing signs he could break through with a win. He's used to the pressure of a major. Simpson has won this tournament before, is enjoying a resurgence in his career and is capable of handling the U.S. Open whether it favors high scores or low scores. As for Schauffele, you should know by now I'm a huge fan of his, but beyond that he has posted some solid finishes in this tournament (tied for 3rd last year, tied for 6th in 2018 and tied for 5th in 2017). Is he due? I have to believe this could be his chance to win his first major. He gave Johnson a really good battle in the Tour Championship.