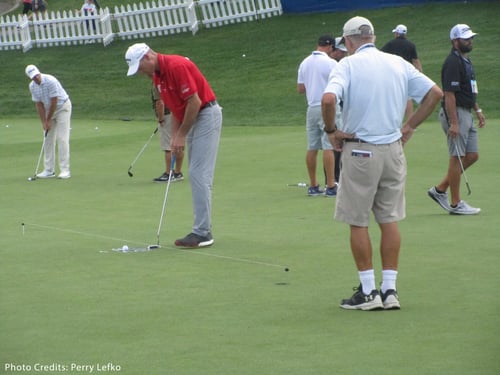 The day before the 2018 Canadian Open began, I went to Glen Abbey, the course where this year's tournament took place, and approached some of the golfers to talk about balls and other aspects of the game. Veteran Jim Furyk (Callaway Chrome Soft), proved to be quite engaging.
I began by asking him why he is contractually aligned with Callaway.
"I've got a great relationship with Callaway and I've worked with them for a number of years and been on their staff three different times throughout my career," he said. "The gentleman that builds my equipment now (Dean Teykl) works for Callaway. I've had him build my equipment for over 15 years, so there is a really good working relationship with the company.
"I feel that part of my job as a player is to help them design better golf equipment and I feel like the company I'm working with right now takes a lot of the feedback we give them as players and tries to develop better products."
"The version of the Chrome Soft you see now is from years of feedback, and Callaway is always pushing and trying to make better products. Right now I feel a have a golf ball that really fits my game, and we have about three different Callaway balls that are being played on the PGA Tour. With those three balls, they are able to fit a large percentage of our staff and they've done a real good job of it."
Furyk said that he's represented different companies at different times in his career, but never felt like he was giving up on anything when playing one particular product.
"I kind of re-evaluate every year and realize what's out there on the market and try to play the equipment that gives me the best opportunity to succeed and play well," he said.
He has been aligned with Callaway in his current deal since 2012.
"I was coming off a President's Cup, where I was playing with Phil Mickelson (Callaway Chrome Soft X) and in alternate shot I was playing his ball and really like the ball. I felt like it was better for me than the product I was playing and I ended up switching to Callaway the next year because of that."
I asked Furyk what advice he would give to people in terms of selecting a ball.
"Most amateurs are trying to fit for their driver. They want to hit the ball far and the driver to look good. But in theory you're going to do most of your scoring with the short game. Most companies will fit amateurs for distance because that's what sells. But most pros fit their equipment to their game, especially their short game because that's where they score and make their money, and then you find a driver that matches the ball."
I asked him to amplify on the importance of practicing with irons for the short game and then moving backwards in the bag to the driver. Some people work the opposite way.
"Most good players are going to work twice as much from 100 yards and in as we will from 100 yards and out," he said. "That sounds crazy and preposterous to an amateur, but that's what you'll see a lot of professionals do."
I then asked him about his particular style of taking his time before putting. Some critics have labeled him a slow golfer.
"I'm on the quicker side here, believe it or not," he replied. "I think what you see on television is that my routine is different than most people. I do the same thing everyone else does. Most players will put their ball down, will step behind to read it and then will walk up to the ball and take a couple practice strokes and step behind the ball and hit it. But inevitably what you feel over the ball isn't necessarily what you saw from behind it. What I'm trying to do in my routine is take my practice strokes immediately, and that's usually when the TV camera focuses in on. Now I'm looking at speed, so now when I go behind my ball to read it I've got a speed in mind which helps me with a line to identify. I walk back up to the ball and address and just let it go."
"Please don't write an article that tells people to go slower, be more methodical and don't rush because you're going to ruin the game. You can quote me on that. We need to speed up the game."