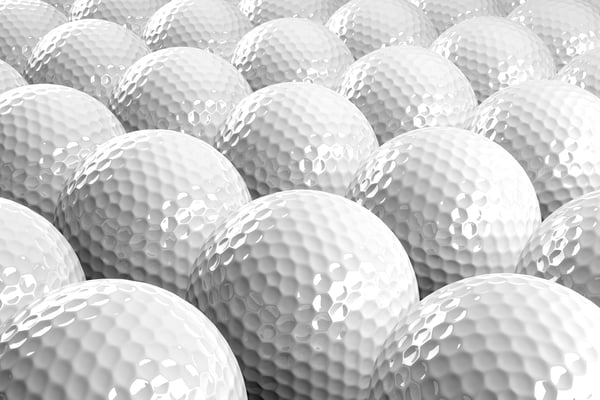 Can a colored golf ball produce better results than a conventional white ball? That is really hard to know because you would need a huge sample size, but Bubba Watson is providing anecdotal evidence that white might be better.
Watson, a winner of two Masters, switched back to white balls manufactured by Titleist in November, 2017 after ending a multi-year relationship with Volvik and its colored balls after only 10 months. When he did the Volvik deal, Watson talked about playing with different colored balls besides just the pink one he was using regularly and even floated out the idea of two-tone balls.
Well, you can forget that radical idea.
Watson switched to a Titleist Pro V1x, and apparently did it on his own without consulting any of the company's representatives. Given that Watson taught himself to golf without any instruction and does not have an instructor now, it makes sense. There will likely never be a player quite like Bubba for so many reasons.
In a story last fall on www.golfweek.com, it was shown that Watson plummeted to 20th in terms of distance drives with an average of 305.8 yards, which would be quite acceptable by normal standards. But the year before, he averaged 310.6. So basically he dropped about five yards off of the tee, which is considerable playing at the elite level. But now he's averaging 316.2 yards on his drives, ranking him fourth overall on the PGA Tour. He is second in money earnings with more than $3 million. He's made the cut in eight of nine tournaments and has three top-10 finishes. He played in 22 tournaments last year and didn't win any or even finish in the top three. He only made the cut in seven of the tournaments, He won slightly more than $1.2 million and ranked 75th in FedEx points. In 2016, he posted one win in 19 events, one second and four top-10 finishes. He made the cut in all but one tournament. He won the Northern Trust Open and banked almost $3.5 million. He ranked 21st in the FedEx standings.
He was battling health issues last year and that combined with his waning confidence contributed to his slide. So maybe a change in balls made the difference, although with Bubba Watson you never really know because his game is so radically different from most pros. He doesn't go looking for coaching tips. He just changes his ball – and without any input from Titleist.
Watson's win in the WGC Match Play, defeating Kevin Kisner, provided some more recent news that he is back on his game. The field was stacked with just about every star on the tour. He showed his return to form before that winning the Genesis Open.
So, yes, Bubba is back – just in time for the Masters. It wouldn't be surprising if his success this year leads to a contract with Titleist.
Bubba is a marketer's dream. Everyone loves him – the fans and his fellow competitors. He shows his emotions when he plays – both when he's doing well and when he's struggling.
Add him to the players to watch going into the Masters this year.