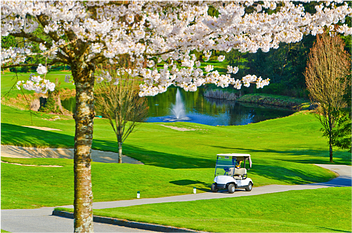 As our contest for tickets to this year's Masters Tournament comes to a close, we have a few tips to help you get back into tournament shape, yourself.
Have you entered yet? Click the link for a chance to win: Masters Tournament Ticket Giveaway.
Winter has been brutal for golfers all across the country. Even the South suffered through snowfall and polar vortices, keeping them off the greens. Not ideal golfing weather at all.
The lush greens of Augusta couldn't seem further away for those of you waiting to hear whether you're the big winner. But really, how far away is spring? It's waiting, just beyond the next cold snap.
Never a gradual transition, that first real spring day is always a surprise. You step out your door and the air has changed – warm and heavy with the scent of grass and earth -- and your immediate thoughts are: "The range! WHY have I not been at the range?" Shake off that parka you've been living in. It is officially golfing season!
Mental Preparation
Before you get to the course, prepare yourself. You won't be pleased to see what's left of the greens. Snow and ice have licked the life right out of them. They'll be ugly for quite a while. But, don't think about that for long: your game looks much the same. For now, your only job is to get yourself back into mental shape.
It's always rough in the beginning. Here are some tips to fix those early-season mental blocks so that you can get your game back:
Recall your concentration. Remember which cues worked best to keep your focus. Quiet all the background noise and repeat your cues before each swing.
Don't stop breathing. Always a good tip, yes, but get those breathing patterns down now and you'll thank us in May when everyone else is tossing clubs.
Visualize it. Like anything else, thinking now about how you will golf will translate into better performance later, when you do golf. Walk through it all in your mind. See each tee. Feel the swing. Watch it fly.
We're giving you permission to daydream about golf. Don't shrug it off. This, too, is practice – a drill that pro athletes use all the time.
And, most importantly:
Relax between shots. Get onto the practice green as early and often as humanly possible, but ease up on yourself while you're out there. The season is long. It'll all come together.
LostGolfBalls.com wants to make sure you're ready to take advantage of those first few 50- and 60-degree days. We're offering a variety of new Masters Bundles available to you just in time for the start of golf season. These bundles feature some of our most popular golf balls: your choice of Titleist Pro V1, Titleist Velocity, TaylorMade Lethal, and more.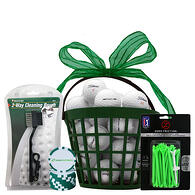 Each bundle includes:
(30) AAAAA Golf Balls
(1) Warm-up sized Practice Basket
(30) Zero Friction 3 1/4 in. Citrus Green Composite Tees
(1) Dual Bristle Club Brush
(1) LostGolfBalls.com Green/White Ball Marker Poker Chip
Pricing starts at just $26.99, so pick up your fresh, new Masters Bundle today!