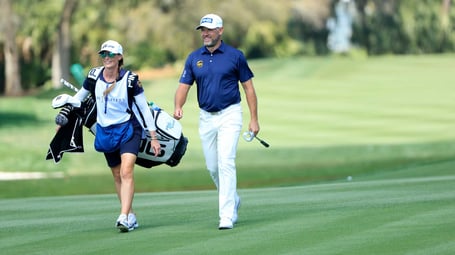 The enduring image in the last two PGA tournaments is of 47-year-old Lee Westwood (Titleist Pro V1x) and his caddie, Helen Storey, who also happens to be his fiancé.
Besides the fact that it is a rarity to see women on the bag in PGA events, it is an oddity to see one who seemingly has no real background in golf, at least at an elite or competitive level. Westwood readily admits he doesn't need to consult with a caddie because at his age he doesn't need someone helping him. Some golfers will say a good caddie can make a huge difference, but in Westwood's case it is all relative.
Storey is credited with helping to turn around Westwood's career and presumably his life. She is, according to all reports, a fitness instructor who came into Westwood's life after his divorce in 2015. He began employing her as his caddie in 2018 and promptly won a tournament to end a four-year drought without a victory. Coincidence? Maybe.
He finished second in his last two tournaments, rewinding the clock. With a little bit of luck, he might have won the Players Championship, but a missed putt by inches on the 17th hole ended his gutsy run of par saves.
Westwood is scheduled to participate in the Honda Classic later this week and if he is able to maintain his overall consistency for three successive weeks, it will speak volumes of his rejuvenation. Surely at some point the mental, physical and emotional feelings he has exhausted being a bridesmaid will catch up with him. Then again, he just might continue the streak for a third successive week playing against players almost half his age or younger. If he wins the Honda Classic, it will create one of the all-time feel-good stories in golf and sports. The field for the Honda Classic won't be nearly as salty as the ones he's faced the last two weeks, so anything is possible. Daniel Berger (Titleist Pro V1) will be the prohibitive favorite to win the tournament.
The image of a golfer with a big belly is becoming less and less. Today's golfers are lean, though the likes of Bryson DeChambeau (Bridgestone Tour B XS), Brooks Koepka (Titleist Pro V1x) and Tiger Woods (Bridgestone Tour B X) have used weight lifting as a big source of adding mass to produce strength, clubhead speed and ball distance. I'm sure that is a quantum theory that DeChambeau has calculated with his advanced knowledge of physics.
What Westwood is doing is what's known as functional fitness, which is designed to strengthen the core of the body. This type of fitness routine does not include power lifting with weights; in fact, there is almost no stationary weight lifting attached to a machine. The only weights may be kettle bells or free weights. The emphasis is on quality reps as opposed to quantity, and the weights are not dramatically increased with each rep.
Functional fitness tries to simulate every day movement, such as stretching, turning, bending, reaching and twisting, which are basically what golfers do and which puts pressure on the knees, shoulders and back. Functional fitness exercises consist of planks, pushups, jumping, squatting and running to produce strength and improve cardio. It is also called interval training because it's done in intervals. When it's ramped up for 30 minutes or more and involves constantly moving from one activity to another with little breaks in between it is called High Intensity Interval Training, otherwise known as HIIT. I know this because I have been doing it for years after I became injured far too much using weights.
Consider what Westwood said in an interview with Golf.com about his training. "I don't so much need to be skinny, but I've always concentrated on maintaining the area of my body that take a battering. Knees, back, shoulders, I've done a lot of exercise over the years on them to try and prevent injuries, really, rather than getting an injury and having to fix it."
I think DeChambeau is revolutionizing training for golf, but Westwood is also doing that in a different way, particularly for the 40-something and older crowd, with a caddie who is drawing attention as well.