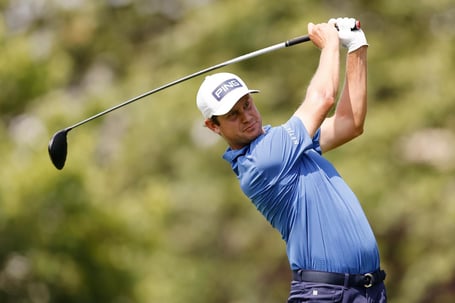 Image Source: Golf Digest
There is nothing more exciting in sports than sudden death playoffs. It is the ultimate in drama, featuring an ending that is sudden, powerful and either incredibly uplifting or deflating, and that applies to both the competitors and bettors. With single-sports wagering becoming more and more prevalent, the hardcore gamblers and the casual bettors are becoming invested in the outcome.
Certainly that was the case last Sunday in the Travelers Championship, featuring Harris English (Titleist Pro V1) and Kramer Hickok (Titleist Pro V1), battling it out in eight holes over the course of two hours following 72 holes. You had to feel sorry for Hickok, who lost when Harris birdied to end it all, because he had two opportunities to win with putts that lipped out.
Clearly the boisterous crowd wanted Hickok to win, shouting, "Kramer, Kramer" several times. He was hoping to win the tournament, what would have been his first on the PGA Tour, that his former University of Texas teammate Jordan Spieth (Titleist Pro V1x) won in 2017 when he holed out from a bunker.
Without going through every shot in the playoffs, both players rose to the occasion, matching one another to extend the battle. And here is how the whole thing became personal. I had picked Harris to win in our weekly PG Golf Pool. For weeks, I had seen my team go from comfortably in first place to the equivalent of a falling stock with no end in sight. In the third round, Harris was doing well until he had a hiccup on three holes on the back nine, missing an easy birdie and then bogeying twice, for what I would call a three-stroke swing. But in the final round, in particular in the playoffs, he was solid with his putter.
If you had picked Bubba Watson (Titleist Pro V1x) to win, you probably felt sick. Going for his fourth win in the tournament, after totaling three victories and one runnerup between 2010-2019, Bubba had the lead after the first nine holes and looked home and cooled out. But he came undone on the back nine, in particular the last five holes, shooting six-over par.
If that isn't proof that golf might be the most maddening sport of all, nothing is. And anyone who picked Bubba in their pool or bet on him, well, I'm sure they felt just as disappointed.
SPEAKING OF BUBBA: In the second round, Bubba had the head of his driver fly off, but the ball still travelled 300-plus yards. Nobody shapes shots quite like Bubba – well, maybe Phil Mickelson – and clearly no one can make a ball do that with a broken driver.
WAITING ON DUSTIN: For the longest time, Dustin Johnson (TaylorMade TP5x) has been number one of the Official World Golf Rankings, but he has slipped to number two. While he has earned in excess of $4 million this year, he accumulated $950,000 of that from the first three tournaments of the 2021 season. That included the $600,000 from winning the Masters, which was moved to November from its traditional April date because of COVID.
In 12 tournaments since the Masters, he has posted only two top-10s. He's also missed the cut twice – in the Masters and the PGA Championship. He tied for 17 in the Travelers, which he won in 2020.
Can this can be considered a slump? Johnson has won at least one PGA tournament in 13 of 14 years since 2008. So halfway into 2021, he has not shown anything mildly resembling a really good result. But you can never discount him completely. Surely, he will win a tournament this year and likely at a decent price for bettors. I'm going to go out on a limb and say maybe in The Open Championship.