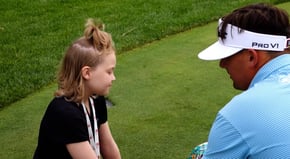 Up until a few weeks ago I didn't know much about Hank Lebioda (Titleist Pro V1x) and then I started to take notice of his results, but what happened last week in the 3M Open made me really appreciate him.
During the practice round, Lebioda spent some time talking to an 11-year-old named Braxton, who has been battling leukemia since she was nine and is just weeks away from her final treatment, She was a junior ambassador at the tournament and is also an artist. She showed Lebioda some work she did on an oversized golf ball. She explained to Lebioda that she loves the ocean and drew whales, sharks and dolphins on the ball. He took a photo with the girl and her younger sister, Brylee.
Afterward, he did an interview and talked about the young girl and how inspiring she is dealing with a complex issue such as cancer.
"It's extremely inspiring and very neat to see such a young person be able to tackle such a grown-up challenge, such a mature challenge, with an open mind, an open heart," he said.
Lebioda explained that he battles Crohn's Disease, which is a painful inflammation that attacks the intestines.
"It's not fun, it's not easy, it's not something a lot of people can relate to, and to just see an 11-year-old who was a nine-year-old when she was diagnosed be able to handle, accept and attack the disease the way that she has that's something a lot of us can learn from," he said.
I took Lebioda as one of my two selections in our PG Golf Pool and had high hopes. The 27-year-old fifth-year pro had come into the tournament with two top-five finishes and three top-10 finishes in his last three tournaments. He was playing well, shooting four-under par after two rounds to easily make the cut of two-under par.
And then he had to withdraw for what was called "personal reasons."
He subsequently explained on Twitter that after the round he received a call from his mother explaining that her husband was in the intensive care unit with sepsis, kidney failure and COVID. Lebioda further explained his father's blood pressure dropped and his kidneys failed.
"He had entered Septic Shock and on paper should've been dead," Lebioda wrote.
He said he had spoken to his parents throughout the week and they gave no indication of anything concerning. When he found out, he had to withdraw. And you can understand why.
"I am confident the man I've looked up to my whole life will be back as I remember him," Lebioda added. "It will be awhile, but we're all thankful that we will have that time with him. Thank you to all those people who have reached out and checked in on us the last few days. I apologize I hadn't responded, but we were understandably preoccupied."
He went on to thank the hospital staff for what it did.
I think that says a lot of about the class and courage of Lebioda.
I wish he and his family well.
OLYMPIC MEN'S GOLF CHAMPIONSHIP: The PGA takes a break this week because of the Olympics in Tokyo. It was exciting to watch golf played in the Olympics for the first time in 2016 with Justin Rose (Taylor Made TP5) winning and truly embracing the victory.
Being from Canada, I'm cheering for Canada's tandem of Corey Conners (Titleist Pro V1) and Mackenzie Hughes (Titleist Pro V1). Canadian golfers, men's and women's, are starting to make their presence felt globally.
Overall, the men's field is strong. Masters winner Hideki Matsuyama (Srixon Z Star XV) goes into the tournament as the home country favorite. Some countries have only one player, but the United States have four – Justin Thomas (Titleist Pro V1x), Collin Morikawa (TaylorMade TP5), Xander Schauffele (Callaway Chrome Soft X) and Patrick Reed (Srixon Z Star XV). Bryson DeChambeau (Bridgestone Tour B X) was supposed to be in it, but was diagnosed with COVID.
My pick to win it – and it's a mega long shot – is Norway's Viktor Hovland (Titleist Pro V1). I think he's due for something big.