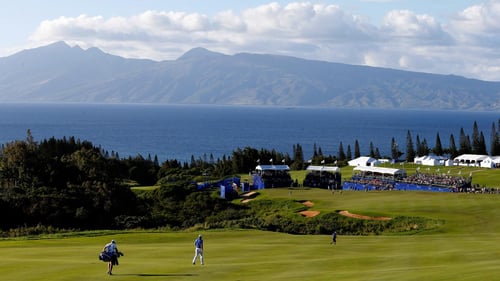 Image Source: Getty Images
Aside from the picturesque view of Maui, the whales breaching in the Pacific Ocean and the marvelous finish that resulted in Harris English (Titleist Pro V1) winning a playoff to record his first PGA tournament victory since 2013, the one thing that was truly distinguishable in the Sentry Tournament of Champions was spectators.
I'm not sure why or how it happened, but there were people sitting in hospitality tents behind the 18th hole of the stunning Kapalua Plantation Course. This was the first time spectators were in attendance at a PGA Tour event since it returned to weekly play in June following a 91-day layoff caused by COVID-19. Some spectators have been allowed to watch since then, but for the most part they have been volunteers for the final round.
The PGA Tour has truly become a sport in which the people outside the ropes are noticeable, particularly shouting after drives or putts. It was probably the emergence of Tiger Woods (Bridgestone Tour B XS) 22 years ago with his long bombs off the tee and his solid short game and putting that signaled the true change in the sport.
And that wasn't a bad thing. It certainly added a new dimension and it was noticeable by its silence last year.
If people aren't in attendance for the Waste Management Phoenix Open, which is the one tournament that stands aside from the others in terms of fan involvement, that would be a shame. The par-three, 16th hole is the one in which the players play up to the fans, including those packing the clubhouse grandstand. This year's tournament is February 4-7 in Scottsdale, Arizona, and it was announced in late December by new tournament chairman Scott Jenkins that limited general admission tickets were on sale for the tournament, along with the clubhouse.
"We have been working closely with the PGA Tour and local health officials and are confident that we can safely host a limited number of fans for 'The People's Open' in 2021," Jenkins said in a media release. "We don't have an exact attendance figure at this time but we will be conservative in all of our decision-making to ensure the health and safety of all involved with the event and our community. Given the fact our venue is a 192-acre, open-aired facility that will allow for safe social distancing measures, combined with COVID safety protocols including the wearing of masks on-site, we are confident we will conduct a safe and responsible event in February."
The Waste Management Open attracts many premier players because it is a chance for them to cut loose and give back to the fans. Players such as Bubba Watson (Titleist Pro V1x) and Rickie Fowler (Titleist Pro V1) have demonstrated their appreciation for the support of the fans that truly reflects the connection.
Already confirmed for the tournament are: defending champion Webb Simpson (Titleist Pro V1), Jon Rahm (TaylorMade TP5), Matthew Wolff (TaylorMade TP5), Scottie Scheffler and Sungjae Im (Titleist Pro V1x).
BRYSON'S SHOT INTO THE SPECTATORS: On the final hole of Saturday's round, the people sitting in the hospitality tents must have been scurrying when Bryson DeChambeau (Bridgestone Tour B X) launched an iron shot past the hole and toward them. With Bryson and his bombs, you just never know where the ball will land.
On a side note, I had Bryson and Justin Thomas (Titleist Pro V1x) in my pool. Justin finished tied for second while Bryson tied for seventh. Bryson finished the final round at seven-under par. If he could ever harness his iron shots and putts – as he did in the 2020 U.S. Open – Bryson could go on a tear given his driving.
BUBBA AND BRYSON: There's a TV commercial in which Bubba and Bryson are promoting a product, and when you think of the current players in golf these two are oddly familiar. Bubba never took instructions to play golf and yet won two Masters. He is the master at shaping shots. Bryson, meanwhile, is the mad scientist using mathematical equations to figure out distance. They also have hats that are far from the norm – Bubba with a visor, Bryson with the Ben Hogan flat caps.
IN PRAISE OF JEFF SPICOLI: Twice during the third round of Saturday's telecast of the Sentry tournament the name Jeff Spicoli was mentioned. For those of you not familiar with him, that is the surfing, stoner character played by Sean Penn in the 1982 movie Fast Times At Ridgemont High. The reference came about because of the surfers seen doing their thing on the wide panoramic shots of the Pacific Ocean. His famous line was: "All I need are some tasty waves, a cool buzz and I'm fine."
Hard to believe that film is almost 40 years old.
And speaking of tasty, isn't that a word that is exclusive to Phil Mickelson (Callaway Chrome Soft X)? Wonder if Lefty ever watched Fast Times at Ridgemont High? He's from California, so I'm sure he's seen the film.