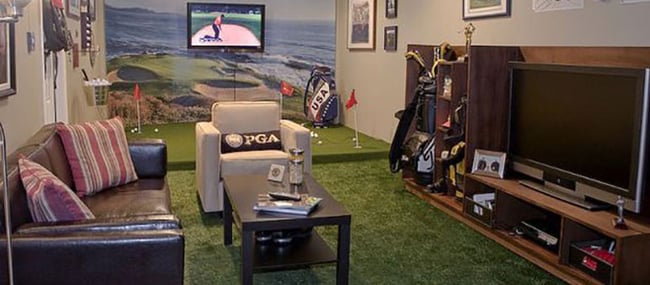 We aren't denying it – if you're here, you love the game of golf. And while it's normal to have some golf-themed decorations around the house, some people take their obsession with the game into new levels when designing their perfect rooms. Some of them are gorgeous, some of them are tasteful, and some of them are just downright bizarre. But is too much of a good thing really that bad? Look at the rooms below, and let us know – how far would you go to bring your love of the game indoors?
Any golfer parent can tell you that from a young age, you try to instill the love of the game in your offspring. That might not always work, but if you ever want to try again to make your kids feel at home on the green, start them out in this adorable golf-themed nursery. Just look at that rocking cart – screw the kids, I want one for myself.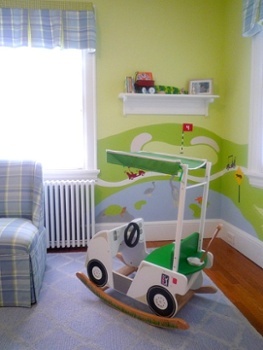 Honestly, could this be any cuter?
Another themed nursery that doesn't over-do it is this lovely one. The vintage poster and the small table accents contribute to theme without being incredibly overwhelming – just enough to subliminally manipulate your kid into loving the game just as much as you do.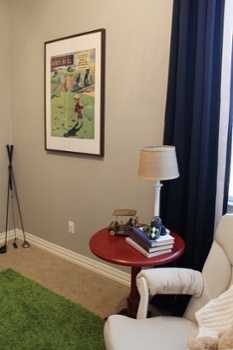 Rock-a-bye baby on the tee-top…
What would be your first thought when walking into a bathroom like the one below? Would you feel comfortable sitting down in a room where you would never be able to escape the game of golf? You might love the game of golf, but this room looks like it's been designed to make you feel naked in more ways than one.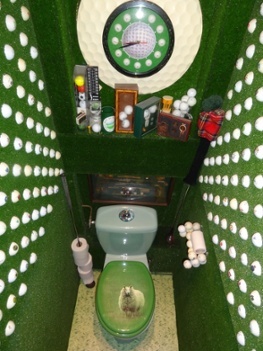 Is it just me, or are my eyes bleeding a little?
If your eyes hurt a little after that last golf themed room or you're feeling a little cramped, check out this next one. A large open space, a built-in putting green, and gorgeous accents make this room the perfect one to while away those long winter days while you dream of summer.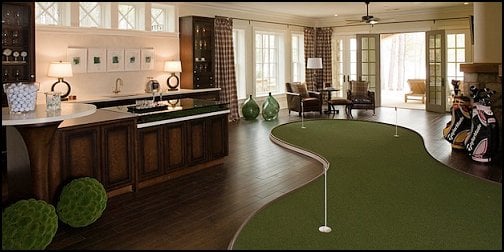 Yes please.
If you don't have quite as much space as the lucky homeowners pictured above, you can compensate for the lack of space. Instead of having a full putting green installed, you can always lay down this cute little carpet so you can still better your game. And if the dog ever accidentally mistakes it for the great outdoor toilet – it'll be easy enough to roll it up and take it outside for a good hosing.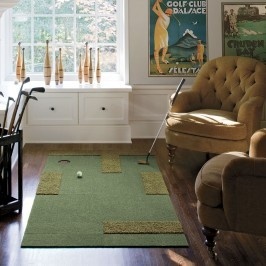 I have a mighty need for that poster in the background.
When thinking about golf-themed rooms, it seems only natural that one would make a jump to the sought-after man cave – a haven of sports and television for those of us that have the Y-chromosome. If you're really dedicated, you can turn that basement into a practice putting green, a big screen TV sanctuary, and an all-around golfing bonanza.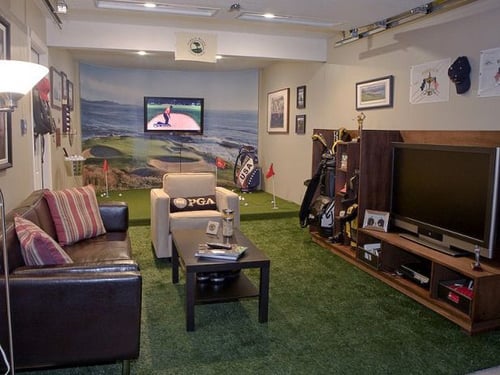 Granted, if you design this room you can probably never expect to see him again…
If the mancave above had too many distractions, you can always build one like the one pictured below. A large putting green and an immersive big screen TV can make sure that you focus on one thing and one thing only – your game.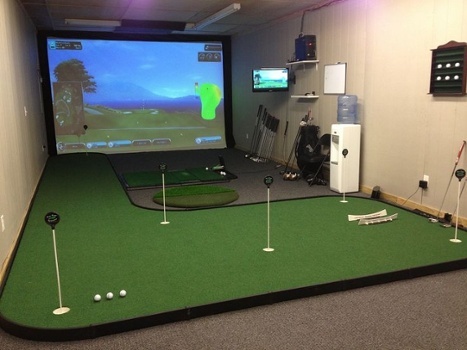 It's the perfect little golf getaway.
Ahh Argyle, the pattern of champions. After your eleventh straight hour of hiding in your mancave and growling at anyone who dares descend the stairs, you can retire upstairs to another golf-themed room that is sure to help you relax.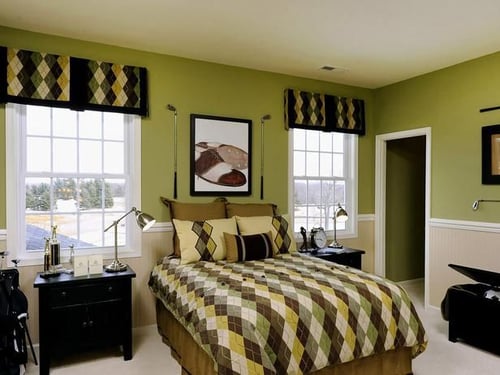 The golfers were nestled all snug in their beds,
while visions of holes-in-one danced in their heads…
Maybe this is just me, but the golf-themed wall decals below make it look like whoever decides to take a nap there is about to get seriously injured. While it might make you drop off, any loved one who happens walks into the room after lights-out just might end up calling 911 in their (honestly understandable) surprise.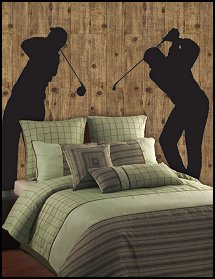 The golfers were nestled all snug in their beds,
while visions of ambulance rides came down on their heads…
A lot of designers and interior decorators will tell you that it's always really important to maximize small places and make them appear larger than they actually are. The designer of this particular kid's bedroom decided to forgo the mirrors and artfully placed objects that that technique usually calls for and brought the entire outdoors indoors with blown up photographs. Hey, at least when he's grounded the kid has the illusion of freedom.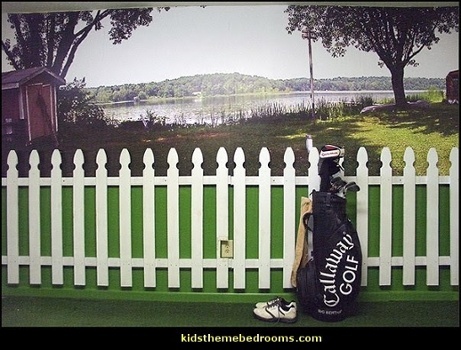 Even if you bring the outdoors indoors, make sure that you leave some of the things
common to the golf course outdoors. Like squirrels. Or Canadian Geese.
---
This post was originally published by Knetgolf on December 7, 2015. Knetgolf was acquired by LostGolfBalls.