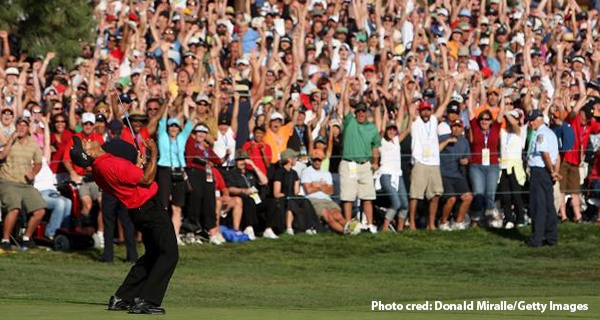 When the news came out a few days ago that Tiger Woods will not be playing in the British Open as he continues to recover from his second back surgery, it was not a surprise. It was more of an underlying possibility he may never participate in a Major again, perhaps any tournament at all.
He has not played in a year and a half and will miss his third consecutive Major. The contortions, twists and turns that allowed him to strike the ball further than anybody during the prime of his career came at a stiff cost: his health.
It is said that we are nothing without our health, and for Tiger Woods this means it will take some kind of medical miracle, or an otherwise incredible amount of rest and physiotherapy, to be able to swing a club with any kind of proficiency.
The way the game has evolved, there are numerous ball strikers who can drive the ball 300 yards or more with consistency, something which made Woods without equal. At one point, it seemed he was destined to set records, including breaking Jack Nicklaus' record of 18 Majors' wins.
And then little by little, his game began to fall apart as his body gave way to the extreme torque that seemed to be unthinkable. He is stuck on 14 Majors.
But what happened to Woods is a reminder that golfers are not machines that can be fixed by replacing parts. There is only so much the body can withstand before it systemically begins to break down.
Woods is only 40, which for most individuals is relatively young. In golf terms, he is on the back nine, 10 years away from eligibility for the Seniors' Tour.
That's really quite amazing, but Woods has been a pro for two decades, and in that time he changed the game forevermore, culturally, athletically and monetarily. He opened up the game for advertisers to spend significant amounts of money on him and the game. He opened up the door for African American athletes who would otherwise be limited because of economics or racial prejudice to play. His influence will never truly be known, but suffice to say that he took the baton passed by greats such as Nicklaus and Arnold Palmer and ran with it unlike anyone else. In an age of content is king, he made golf destination entertainment for viewers watching on TV and anyone buying a ticket to see him play.
Everything that he did advanced the game technologically, as companies created equipment to mimic what he did and apply that to the average player. He took the Nike brand, which had been successful in other sports, and gave it a new market.
Everything about Woods, beginning with his nickname, created a wow factor in a game that was all about tradition and etiquette. He added significant style and sizzle. Every time he teed off, you heard the crowd roar in approval, and when he putted, even from long distances, they'd shout "in the hole." And when he made miraculous shots, which he seemed to do with regularity, it elevated him to a level of greatness.
Remember that putt in the 2005 Masters, when the ball stopped on the lip of the cup and then a couple seconds later dropped in? That will go down as one of the most incredible shots in the history of the game – it was certainly a great endorsement for Nike, as the ball stopped to prominently display the logo, then sank.
Maybe the golf Gods put him on a pedestal for the overall good of the game, then turned him into a mere mortal. His injuries have become what kryptonite was to Superman.
Like a lyric by a Neil Young song, maybe it is better to fade out than it is to rust. The longer Woods is inactive, the more the rust will accumulate.
And yet there will always remain hope that somehow he will be able to return and recapture his game. Every time there is video of Woods practicing, there is a belief he is moving one step closer to a return, and just as quickly there is evidence that may be wishful thinking more than reality.
We all want our athletic heroes to last forever, and in the case of Woods there is a feeling that for all he did, the overall accumulation has fallen short of what may have been.
And you have to wonder what is going through his mind? If he returns, will he be rendered a mere equal among his peers? The great hockey player Wayne Gretzky decided to retire when he realized he could no longer play at a level that separated him from the others. He wasn't content to keep collecting a check. He realized it was time to exit gracefully and with dignity and, equally important, his health. He wanted a quality of life. In effect, he left on his own terms, having done all he wanted and leaving with no regrets.
At this point, Woods is doing everything possible to have the chance to at least come back and play before he formally announces his retirement.
He also needs to rehabilitate his body so he won't suffer the consequences later in life. He is now battling mental, physical and emotional health following an incredible career that like a roller coaster ride has come to a halt.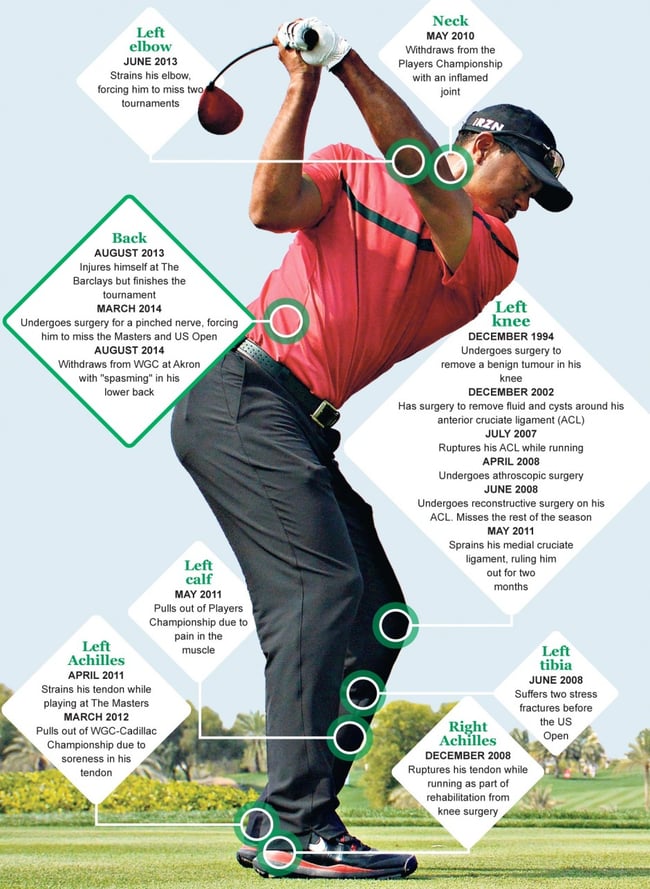 Photo cred: www.telegraph.co.uk
---
This post was originally published by Knetgolf on July 6th, 2016. Knetgolf was acquired by LostGolfBalls.