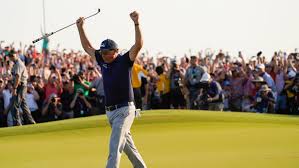 Random thoughts on anything to do with golf:
THE BEST BET: It should come as no surprise that golf is benefitting because of the rise on sports wagering.
Think about, golf and gambling go together.
We saw it when Phil Mickelson (Callaway Chrome Soft X), who has never been shy about betting, introduced his charitable matches, beginning with Tiger Woods (Bridgestone Tour B Xs), and incorporated "skin" on each hole. There was even Vegas odds posted on each hole with visible graphics for the TV audience because people were betting on it.
Every week, Vegas publishing houses post odds for the PGA events. For bettors who want action on head-to-head matches or various other prop wagering, that is also available. Laying down a bet on an individual player and having to wait four days to determine the outcome can be excruciating.
I can only compare that to betting on a team in a playoff match for baseball, basketball, hockey or any other sports that has a best-of-three, or best-of-seven format. It could take a good two weeks for the end result. For people who need immediate action, there are numerous wagers available on everything. It's a big reason the Super Bowl is so popular. If there was one single sports event that is made for wagering, it's the Super Bowl. Think about it, you can bet on how long the National Anthem will take. I prefer to bet the over because any true diva – man or woman – is going to want to milk those minutes.
By the way, the Vegas betting shops took a bath on the Ryder Cup with Team U.S. easily defeating Team Europe 19-9. Each day of the three-day event saw the Americans dominate the Europeans. Yes, the Americans were favored to win, but not like that. Hey, sometimes players have to take some money back from the house, which routinely comes out ahead in the end, otherwise how would they operate if consistently losing money?
LONG BALL BRYSON: It shouldn't come as any surprise that Bryson DeChambeau (Bridgestone Tour B X) bowed out early in the Professional Long Drivers of America World Championship. Big Bryson made it to the final eight before his time in the tournament came to an end. What's interesting is the winner of the tournament, Kyle Berskshire pocketed $50,000. That is pocket change for DeChambeau and speaks to how the long ball competition hasn't really taken off as a sport. Following the Tour Championship and the Ryder Cup, it's surprising DeChambeau had something left in the tank.
I didn't watch the event because DeChambeau aside, the thrill of seeing someone launch a ball 400-plus yards and not being able to do anything with irons or putting has become rather boring. Because PGA players are routinely launching balls more than 350 yards and, in some cases, over 400 makes these driving competitions rather uninspiring. I don't think there's enough marketing or sponsorship dollars to make the event attractive anymore.
What I'd like to see is a long-distance driving competition for PGA players, much like the home run hitting event at the Major League Baseball All-Star festivities. Now that would be different.
One minor thing: DeChambeau doesn't stand out nearly as much wearing a traditional ball baseball cap compared to his signature driving cap. Wonder if DeChambeau will change his look? He actually looks better in a regular ball cap.
HO-HUM TOURNAMENTS: While many of the major stars of the golf world are taking time off following the end of the 2020-21 season, the 2021-22 season is well underway and that means money and FedEx Cup points.
So for some players, these season-opening tournaments are extremely valuable. Sam Burns (Callaway Chrome Soft X), whom I think is on the cusp of a major breakthrough into the top-20 in the world, pocketed $1.2 million for winning the $7 million Sanderson Farms Championship this past weekend. That's serious cash.
According to The Golf News Net, the winner's share for most PGA events is 18% of the purse. So whether you win a tournament early or late, the reality is the money for the most part is the same.