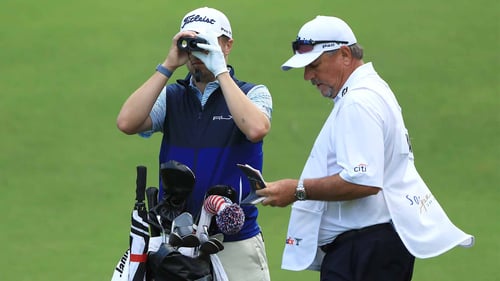 Image Source: Getty Images
The decision by the PGA of America to allow players to use rangefinders in its professional major championships could literally be a game changer.
The change, which was announced this week and is intended to speed up play, will go into effect for this year's PGA Championship, the Women's PGA Championship and Senior PGA Championship. The PGA Championship takes place May 20-23 at Kiawah Island in South Carolina.
On the decision to allow rangefinders, PGA president Jim Richerson remarked: "We're always interested in methods that may help improve the flow of play during our championships."
Ultimately this is about a pro player and his/her caddie and the amount of time discussing distance to the green and whether or not they will embrace the use of rangefinders. The caddies and the golfers know the layout of the courses because they take copious notes during practise rounds, so it's not as if technology will revolutionize the sport.
Recreational and amateurs use rangefinders, including high-level collegiate players. In the absence of caddies, this is the norm. It all changes at the pro level when the competitors are allowed to use caddies to help them calculate distances on courses that are more challenging and the pressure is ramped up playing against older, more experienced players. A seasoned caddie is a huge help, far more than a rangefinder that can't judge a person's mindset. A good caddie is more than just an extra set of eyes; they understand their partner's mindset. That trust will never change even with an electronic device. A good caddie helps in club selection and trust.
What will be interesting to see is if the rangefinder will be universal for all professional tournaments. I think there will be plenty of discussion and pushback before that happens. After all, golf is steeped in tradition and some things will never change – i.e., men being able to play in shorts for the actual competitions on the PGA tour (the exception being the practise rounds).
Reigning PGA champion Collin Morikawa indicated on his Twitter account that it was "crazy news" when he first learned of the change. I'm guessing that was because there really wasn't any pronounced hint or dialogue that change was imminent.
Morikawa told the Golf Channel that he doesn't believe rangefinders will have a significant impact.
"Will you see pace of play improve like 10 or 15 minutes? I don't think so," he said. "But will it help certain players pick up speed? I think it'll be tremendous in that sense."
He added that if anything this will give the golfers and their caddies a choice to use it or maintain the status quo.
"It'll definitely give you accurate numbers, but so many caddies are used to walking everything off, adding their numbers," he said. "Now, that you're shooting pins, you have to kind of adjust to that, and now will guys do both in counting it off with their caddies and shooting pins? I could definitely see that. … Will some guys want to stay the way they are and not change anything? Absolutely. I mean, it's a routine that we're in and we're so used to it. But in college I pulled out a rangefinder for every shot that I hit."
Fellow pro PGA player Will Zalatoris added: "I think hopefully it speeds up the game. I know that that's been a big topic of conversation for a long time. Monday qualifiers have been doing it for a couple years now, we're able to have range finders. So, I don't see a downside to it. I think if anything it will hopefully speed up the game...specifically of guys that hit one off line instead of walking over to the side. I'm hoping it helps. I'm all for whatever makes the game faster. I don't really see a downside to it."